The Current State of Rules for Unmanned Aerial Systems
It's safe to say that all pilots have an interest in the new rules regarding the operation of Unmanned Aerial Systems (UAS) in our national airspace system. As a pilot, you might enjoy flying these machines as a hobby, or you may have had (or are worried about having) a close call in the air with one of these machines. This is one reason that any UAS operator should be aware of the rules regarding UAS.
Near-Collisions on the Rise
Reports of near mid-air collisions have skyrocketed in 2015, no pun intended. According to the FAA, there were 238 sightings in 2014. There were 650 reports by only August 9th, 2015.
What's even more alarming is that in just two summer months of 2015, there were 275 drone sightings above 10,000', where most pilots think that they don't have to worry about avoiding UAS.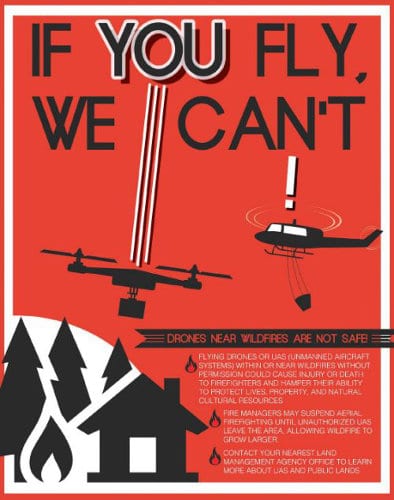 In recent news reports we've seen UAS pilots interfering with police helicopters, air ambulance helicopters and firefighting aircraft while almost the entire west coast of the U.S. was on fire. The National Interagency Fire Center was compelled to start a campaign titled, "If You Fly, We Can't" in hopes of raising awareness to those who might interfere, purposely or accidentally.
The FAA has made these reports available to the public via an Excel spreadsheet. It's disheartening to see these reports happen on a daily basis. Check it out here
What You Need to Know as an Unmanned Aerial Systems Hobbyist
The FAA is unfortunately too far behind when it comes to rule making regarding the operation of UAS. The rules were initially reactive and not proactive, and the resulting mess of guidance can be confusing. Reforms are currently under way.
Here's what the FAA has to say to model aircraft operators (mainly aimed at hobbyists, not commercial UAS operators):
"Always fly below 400 feet and far enough away from manned aircraft. The majority of manned aircraft operate above 500 feet but there are exceptions.
Never fly within five miles of an airport. If you must do this, you need to call the control tower first and tell them your intentions.
Don't operate your aircraft near people or stadiums. A hobbyist recently lost control of his UAS at a major tennis match and it crashed into the stands, narrowly avoiding striking spectators.
Always maintain visual contact with your aircraft. Any reckless operation can result in a fine or even jail time!"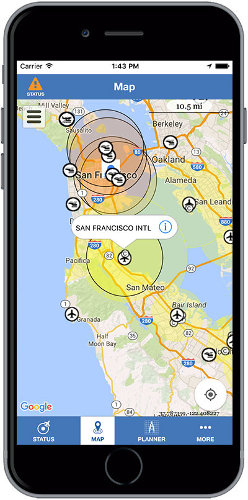 These rules seem simple enough but they are often violated. In an effort to help you operate within these rules, the FAA is developing an iOS app called B4UFLY. It's currently in beta testing and will soon be released for all iOS and Android smartphones. The app will help you plan a future flight, tell you if there are any restrictions at your current location, and provide you with the most current regulations.
The FAA has also teamed up with the Academy of Model Aeronautics and the Association for Unmanned Vehicle Systems International to create the "Know Before You Fly" campaign, aimed at educating recreational UAS operators but the website does contain information for commercial operators as well.
Commercial Unmanned Aerial Systems Operations
If you operate your UAS in a commercial capacity, you're subject to an entirely different set of rules. This mostly applies to photographers who have the intent of selling the photographs they take with their UAS.
The quickest way to get permission to use your UAS in a commercial capacity is to apply for a Section 333 Exemption. The operator of the UAS still needs to hold a current FAA airman's certificate, and the UAS needs to be registered with the FAA.
In the past, an UAS operator would need to apply for an exemption for each instance, but that FAA has recently granted a blanket waiver for exemption holders to fly below 200 feet in most airspace. More details can be found here.
The other method of obtaining a Section 333 Exemption is to apply for a special airworthiness certificate, but this is a much more lengthy process.
What You Need to Know as a Manned Aircraft Pilot
Drones are everywhere! Okay, no, you don't need to be so scared of them that you don't even get off the ground.
You do need to be extra vigilant, especially near airports where you will be at low altitude and concerned about your takeoff and landing tasks. These are already the two most dangerous phases of flight – add a few small flying machines and it becomes even more dangerous.
Recently, in just one day there were four UAS sightings near Newark Liberty Airport, between 2,000-3,000 feet, all reported by commercial airline crews during their landings.
All sightings should be reported to the FAA. As stated previously, recreational UAS operators should not be above 400 feet or within five miles of an airport – if you see any violations of this, it is imperative that you report it! The operation may be authorized but you should let the FAA determine the legality.
You can use the Aviation Safety Hotline, which is actually a very easy-to-use web form, found here.
Pilot participation is an extremely important part of making our skies safer. Data collected by pilots is used to make new rules or to modify existing rules for unmanned aerial systems.
Hopefully, we won't see the day where every UAS operator will require an airman's certificate – your son or daughter should still have the liberty of flying their toy in the backyard – but we also need to be protected from more dangerous Unmanned Aerial Systems operations. Examples of this might be a photographer who is not familiar with the rules and operating an aerial camera in close proximity to people on the ground, exposing them to the risk of a strike. 

Spread the word, educate your fellow pilots, and make this safe and enjoyable for everyone!