Chao has previous experience as a Deputy Secretary of Transportation and Secretary of Labor.
CNN is reporting that President-elect Donald Trump has chosen Elaine Chao to be his Secretary of Transportation. Chao would be replacing current secretary Anthony Foxx, who has served in the post since 2013. The Department of Transportation (DOT) oversees all air, maritime and surface transportation in the US, which includes oversight of the FAA.
Chao previously served as the Deputy Secretary of Transportation under President George H.W. Bush from 1989 – 1991, and as Secretary of Labor under President George W. Bush from 2001 – 2009. CNN notes that this is the longest a labor secretary has served since World War II and that Chao was the first Asian-American woman to serve in a cabinet position. They also note she's married to Senate Majority Leader Mitch McConnell, which they say could complicate her role in helping Trump pass legislation.
Aviation Groups Respond to Chao's Selection
National Business Aviation Association (NBAA) President and CEO Ed Bolen issued a statement regarding the selection, saying "We know that investment in infrastructure, including for aviation, is a priority for the incoming Trump administration, and the DOT secretary will be key in making this priority a reality."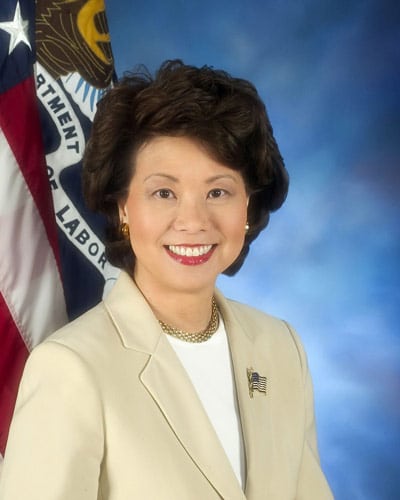 He added that they congratulate Caho on her nomination to the position, and look forward to working with her to "continue promoting general aviation, and building on the progress being made toward a Next Generation aviation system that serves and protects all stakeholders and communities."
National Air Transportation Association (NATA) President Martin H. Hiller also issued a statement and said that they applaud the choice. "NATA congratulates Secretary Elaine Chao on her selection by President-elect Trump as our next Secretary of Transportation. Secretary Chao is a serious, substantive choice to head a department that is critical to the economic success of our nation." Hiller added that they look forward to working with Chao and the DOT on discussing the best way to invest in the nation's aviation infrastructure, "including our airports and modernizing our air traffic control system."
And the Airport Council International – North America (ACI-NA) President and CEO Kevin M. Burke also looks forward to working with Chao, particularly in supporting airports as "a powerful driver of economic growth and job creation for local communities." He added that it was essential that to address the "more than $75 billion in airport infrastructure needs to meet the growing demand of passengers and keep our industry from falling behind."
Featured Image: John Murphy, CC2