The 1973 Cessna Skymaster is described as having an interior and exterior in 'poor' condition.
Textron Financial is now accepting bids on a previously owned 1973 Cessna P337 Skymaster. The auction will run through Monday, December 19, 2016, ending at 5 PM CDT. According to Textron Financial, the aircraft is "well-equipped" but has a damage history to be aware of.
Details on Skymaster Auction
Model and Year: 1973 CessnaP337G Skymaster
Item #: N337JJ
The exterior of this aircraft has a white paint base, with a red accent stripe, and a black and gray interior. As listed below, this aircraft also has some definite items that need addressing, and a damage history. You can visit Textron Financial's website to see the available documentation for the aircraft, including damage repair entries.
Estimated Aircraft Operating Hours
TTAF (Total Time Air Frame): 3,615
Front Engine TSN (Time Since New): 600
Rear Engine TSFRM: 910
Front Propeller TSPOH (Time Since Propeller Overhaul): 110 Hours
Rear Propeller TSPOH (Time Since Propeller Overhaul): 290 Hours
Aircraft Documentation
The Skymaster is missing first 18 years of logbooks, from 1973-1991. Records from 1991 – present time appear to be complete. The auction lists the following damage entries:
2-6-1975 – Repair of the firewall and engine to correct damage. (Entry available upon request)
12-20-1987 – Replaced LH loading skin outboard panel. Repaired wing tip. Replaced LH Inboard Flap. Replaced rear spar carry thru. Repaired skin at carry thru on left side cabin. Replaced left boom doublers at sump tank. Painted affected areas. Reinstalled wing de-ice boot – repaired and checked. The aircraft was flown and found to be OK. Installed serviceable propeller. (Entry available upon request)
10-1-2010 – Log Entry regarding replacement of wings and vertical fin assemblies as well as replaced fuselage lower aft skin. Both main gear forward gear doors were also replaced. The rear engine was removed and then reinstalled after an inspection and repair work. The rear propeller was replaced with an overhauled unit from Senenich (Entry available upon request)
Aircraft Equipment
Garmin GNS530W
GNS430W
Avidyne Flight Max EX-500 MFD
GTX327 Transponder
PMA 800 Audio Panel
KR97 ADF
King KCS 525HSI
GDL-69 Wx Datalink
S-TEC 55x Autopilot
GAMI Injectors
Super Rocket Intercoolers
PowerPac Spoilers
Flint Tip Tanks
Horton STOL
Full De-Ice
Hotplate on pilot windshield
Aircraft Condition
The interior of the aircraft is listed as in "poor" condition, and has the following items specifically noted:
All the aircraft's seat fabric is weathered
The plastic interior panels have numerous cracks in addition to missing chunks of plastic
The sunvisors look to be falling apart internally and appear crushed
The aircraft's interior has a strong musty odor.
The exterior of the aircraft is also being in "poor" condition, with the following items being specifically noted:
The wings, tail vertical, main gear, and gear doors have all been replaced with parts from another aircraft.
The belly has been re-skinned from wing strut aft.
The left wing tip is scraped.
There are corroded fasteners all over the aircraft.
Doubler and straps on outboard wing.
The nose cowl is cracked in several locations.
The aircraft's door lock is broken.
The left wheel cap missing.
Left brake line has been chaffed nearly completely through from the gear door.
Noted landing gear power pack cycled every 30 seconds with gear selector in the down position and aircraft on ground.
Both wings have improperly routed and sutured wiring. Wiring for nav/anticollision lights and wing fuel tip senders are routed with wingtip fuel lines and in some places even zip tied to the fuel line with excess wiring jammed between tip tank and outboard wing ribs. Left wing has an open connector with no isolation located aft of stall switch.
The aft fuselage belly skin is bare aluminum and should be primed and painted for corrosion protection.
Left aileron inboard trailing edge is kinked.
Nose gear door actuator leaks fluid.
Left nose cowl flap hits cabin heater exhaust tail pipe when in closed position.
Left wing header tank sump is seeping fuel.
Plastic fairings for tail section has many cracks. Some cracks have what appears to be a green substance oozing out from within the fairing. Top left vertical stabilizer fairing has a crack and plastic is in brittle condition.
Elevator trim tab has excessive end play due to worn items within the elevator trim linkages.
Elevator trim tab is corroded.
Interconnecting rod for left and right rudders has worn rod ends.
Flap control cable ends, at flap bell cranks, have poorly wired ends.
The front engine has the following issues:
A slight to moderate amount of fine metal particles within the pleats of the oil filter.
Most of the engine's hoses, drain hoses upper deck lines, and hydraulic hoses are dry rotting, stiff and cracked.
The throttle to turbo pressure controller linkage worn.
Fuel divider is seeping fuel past the diaphragm.
Left mag "P" lead wiring is missing the hardware that attached terminal end to mag.
The throttle position switch for the front engine has a broken wire.
Engine nose bowl has large cracks and holes in fiberglass/bondo filler.
The rear engine has the following issues:
The oil drain funnel has a large hole chaffed through from exhaust system.
Waste gate mounting bracket has corroded completely through and isolator mounts have all broken.
The engine mount has moderate corrosion at certain intersecting welds and numerous chaffing from improperly routed/isolated cables and wiring harnesses.
3 cylinders have low compression which during a borescope inspection have shown eroded valve seats, wet valve stems, and oil pooled in the bottom of cylinder walls.
The following items are listed as 'inoperable':
Cabin heater
Prop de-ice amp meter
Tail beacon
Pilot heat
Windshield hot plate
N337JJ is currently located in Watertown, WI.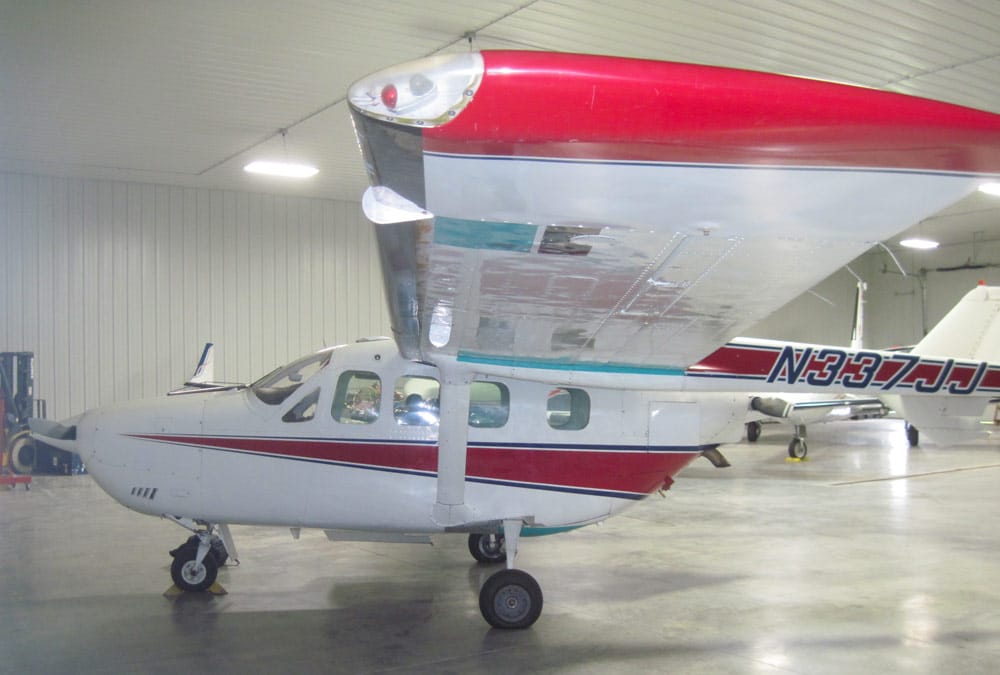 Submitting a Bid
When preparing a bid, you will need to include the following information:
The item number (provided in the descriptions above)
The amount of your bid
Your name
You current address
Your contact information
Textron Financial offers you three methods to submit your bid to them:
Email the bid to cdenton@textronfinancial.com
Mail the bid to Textron Financial Corporation, Two Cessna Blvd, Suite 100, Wichita, KS 67215
Call (316) 660-1214 and speak to Cody Denton
When submitting a bid, keep the following conditions in mind:
Bids will only be accepted from US-based individuals or businesses.
The aircraft are being sold on an "As-Is" and "Where-Is" basis.
Textron reserves the right to reject any bid and bid on the aircraft themselves.
The aircraft can be sold or removed from the auction without prior notice.
Winners of the bid have 48 hours from the time they are notified to make arrangements for payment, or the bid may be voided.
No bids that are submitted with a "subject to inspection" condition will be accepted.
Comparable Aircraft Price Range
Based on what is currently being offered in the used aircraft market, we found that if you were looking at a comparable Skymaster for sale, within 5 model years of 1973, you could expect to pay between $25,000 – $50,000 (for higher time aircraft in poor condition) and around $80,000 – $100,000 (for lower time aircraft in good condition).
Featured Images of the Skymaster courtesy of Textron Financial