Spirit Airlines Pilots have been negotiating a new contract with management for over two years now.
Early analyst reports are projecting that Spirit Airlines will have estimated earnings of $450 million for 2016. If that holds true, this would put Spirit at the top of the US airlines that have so far reported 2016 earnings, about 20% higher than their nearest competitor.
Despite these numbers, Spirit Airlines pilots say that the airline's economic success has not been shared with the pilots or other employees, and they are continuing to push for a new contract. Negotiations have dragged on for over two years now, despite the assistance of the federal government's National Mediation Board for the past six months.
Capt. Stuart Morrison, Chairman of the Spirit pilots' unit at ALPA (Air Line Pilots Association) says that the airline has an aggressive growth plan that includes the hiring of hundreds of pilots. "However, with pay and retirement significantly lower than the industry standard and no profit sharing, Spirit will be unable to attract pilots in an increasingly competitive marketplace and potentially will lose current pilots to airlines offering superior total compensation."
ALPA also points out that in 2016, four major US Airlines signed new agreements with their pilots, all greatly enhancing pay and benefits:
Delta pilots ratified a new collective bargaining agreement that offered an 18% pay increase that was retroactive to January 1, 2016; additional pay raises spread out over the next three years; additional retirement plan contributions; and the continuance of a generous profit sharing plan.

United pilots received a 16% pay increase; kept their profit sharing plan in place; and enjoyed an additional pay increase of 4.5% due to the Delta agreement.
Southwest pilots put a new four-year agreement in place that provided for immediate retroactive payments; a 15% pay increase; a revised retirement plan that increased company contributions and removed a matching requirement; and a continuation of the pilot's profit sharing program.
Jet Blue pilots signed a letter of agreement with the airline management, which gave them an 8% increase in pay, as they continue to negotiate a collective bargaining agreement; and the pilots also enjoy a profit sharing program.
Morrison added that it was time for the airline to share their financial success with the pilots, and start providing "industry-standard pay rates, an industry-standard retirement plan, and a share of the profits."
---
UPDATE 12-6-16: Spirit Airlines Pilots To Picket Corporate Headquarters
Spirit Airline pilots, represented by ALPA, will be holding an informational picket today and tomorrow at Spirit's corporate headquarters. After more than two years of bargaining, the pilots are continuing to work towards a contract that they feel includes industry standard compensation, and that will attract new, qualified pilots.
According to ALPA, Spirit management has cut the flight experience requirements for their pilots in half but has seen pilot attrition nearly double. Captain Stuart Morrison, ALPA's Spirit Master Executive Council chairman, acknowledges the airline's massive growth in recent years, but says that "Without a contract that offers industry-standard pay rates, profit sharing, and retirement, we simply cannot sustain this growth and attract the qualified pilots this airline needs."
More Details on the Information Picket
The picket will be taking place these two days:
Tuesday, December 6, 2016, from 11:45 a.m. to 1:00 p.m.
Wednesday, December 7, 2016, from 8:30 a.m. to 10:00 a.m.
The picket will be at Spirit Corporate Headquarters, located at  2800 Executive Way, Miramar, FL 33025. Spirit Airlines pilots will also be joined by other crew members, including flight attendants, machinists, ramp workers, operations personnel, and customer service personnel.
---
UPDATE 10-27-16: Spirit Airlines Reports Q3 Earnings, Pilots React
Spirit Airlines third-quarter financials show profits of $81.4 million, and revenue that is reportedly better than expected. Spirit Airlines CEO Robert Fornaro, in a call discussing the financials, said that "industry-leading cost structure" was a key reason for "our track record of industry outperformance."
But not everyone is happy with the reported numbers. Captain Stuart Morrison, head of the ALPA unit representing Spirit Airlines pilots in the ongoing negotiations with managements, responded to the financials, saying "While Spirit Airlines management continues to post industry-leading profits, their pilots get paid below industry-standard. It's simply a disconnect." He added that while the pilots are pleased by the airline's growth and profits, they find it hard to feel like a part of the good news "while our compensation gets more and more out of date."
Spirit Airlines pilots are currently working under a 2010 contract, which was put in place when the airline was less than a quarter its current size, at a time when other carriers were working under concessions made necessary by bankruptcy. ALPA says that Spirit currently has more than 1,400 pilots, versus an estimated 400 in 2010. "As an airline, Spirit has grown and changed—becoming more profitable with a larger fleet and newer aircraft," said Morrison, adding that it's time a new contract is put into place that reflects the contributions of the pilots.
---
UPDATE 10-13-16 – Spirit Airlines Pilots Picket at Dallas – Fort Worth International
This past Tuesday, almost 100 Spirit Airlines pilots gathered and stood shoulder to shoulder at the Dallas / Fort Worth International Airport (DFW) to demonstrate solidarity during their ongoing contract negotiations. Despite bringing on a Federal negotiator in July, the negotiations have continued to drag, with Spirit Airlines management declining December meeting dates with the pilots.  According to the airline, the management would be "unavailable."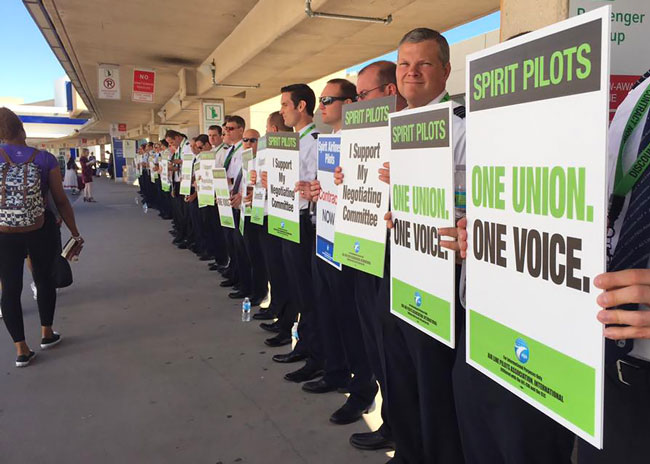 Captain Stuart Morrison, who leads ALPA's Spirit pilot unit, said that they wanted to come out strong to show that they speak with a single voice.
"We will not be dissuaded by delays and excuses from management. Spirit pilots are paid significantly less than pilots at other airlines flying the same routes on the same aircraft. It's time for our company to put an end to that unreasonable disparity and come to the table with an offer that recognizes our contributions to Spirit's success."
According to ALPA, the company reported net profits of $73.1 million last quarter, and yet still pays their pilots less than half of what their peers receive. Morrison said that they simply want the airline to meet the industry standard, adding "As this informational picket clearly showed, Spirit pilots are ready and willing to do whatever it takes to get the contract we deserve."
---
UPDATE 8-4-16: Spirit Airlines pilots on the Q2 Earnings For Company
Spirit airlines released second quarter financials on Friday, July 29. The financials showed an adjusted net income of $78.5 million, which was a nearly 5% increase compared to the same period last year. Captain Stuart Morrison, Chairman of ALPA's Spirit unit, responded to the financials, saying "The success of Spirit Airlines is directly attributable to the work, dedication, and professionalism of this pilot group. We've been at the negotiating table for almost 18 months seeking industry-standard compensation. The company is clearly in a financial position to meet this demand."
According to ALPA, Spirit Airlines pulled in over $300 million last year, and currently holds over $1 billion in cash and cash equivalents. And the airlines almost 1,500 pilots are still operating under a five-year contract that was ratified in August 2010, when the airline had roughly 400 pilots.
"Spirit Airlines consistently posts greater profit margins than its competitors, while we work at rates that are close to the bottom of the industry," added Morrison. "We encourage Spirit management to come to the table with an economic offer that recognizes this pilot group's contributions and brings our compensation in line with the industry."
---
Original Post 7-6-16: Spirit Airlines Pilots Continue to Negotiate New Agreement
The National Mediation Board (NMB) has been asked to step in and help Spirit Airlines pilots, currently in negotiations with Spirit Airlines management for a new collective bargaining agreement. The negotiations have been ongoing for 18 months now, which is 11 months past the amendable date of their contract. Though the two groups have had regular negotiating sessions, they have been unable to reach an agreement, as the pilots continue to push for what they say is an industry-standard contract.
Commentary on the Spirit Airlines Pilots Negotiations
Captain Stuart Morrison, who serves as the chairman of the Spirit pilot unit at ALPA and a member of the negotiating team, had this to say about the situation:
"Direct negotiations have clearly stalled with Spirit management unwilling to come to the bargaining table with an economic proposal. Therefore, we feel that the only way we can move forward in our negotiations is to bring a third-party mediator into the room. We simply cannot waste any more time while our pay rates and retirement continue to lag significantly behind those of our peers. Each day without a contract is one more day that our pilots are not being fairly and equitably compensated by this company."
Spirit Airlines pilots first started the negotiation process back in February 2015, six months before the then current five-year contract became amendable in August. They brought a list of requested improvements to the table and believed they would be able to reach an agreement before August. However, the sides have still not been able to reach an agreement, and the Spirit Airlines pilots and management continue to debate over money and profits. According to ALPA, in the first quarter of 2016, Spirit Airlines reported a $72.3 million net profit, more of which they feel should make its way to the pilots.
Captain Morrison added, "Despite our CEO's claim that Spirit is in the 'low tier' of airlines, our profits and routes firmly place us with the other major players in the industry. Although Spirit prides itself on being a discount airline, our pilots are not available at a discount rate. We have every expectation that the NMB will help us achieve a fair contract that will include industry-standard pay rates."
Featured Image: JT Occhialini, CC2