The Piece of Fabric From the Spirit of St. Louis Is Signed By Charles Lindbergh
A rare piece of aviation history has gone up for auction today on auction website Invaluable. Lion Heart Autographs will be selling a piece of the original fabric from the fuselage of  The Spirit of St. Louis autographed by Charles A. Lindbergh, just days after his historic solo trans-Atlantic flight.
"Before he had got the door of his plane open, the first great wave of humanity had crashed over him, keeping him from even putting a foot on the ground. Arms grabbed him, rendering him helpless as he floated over the sea of heads…" — from Lindbergh, by A. Scott Berg
During this celebration, the thousands of elated spectators who rushed to his aircraft started tearing off pieces as souvenirs. The damage was such so extensive that almost the entire fabric of the fuselage had to be replaced. An anonymous souvenir hunter who managed to grab a piece of The Spirit of St Louis also managed to get Lindbergh's signature on it just before Lindbergh left for Belgium. (I wonder if that was pretty awkward. "Hey, will you sign this piece of your airplane I tore off…?")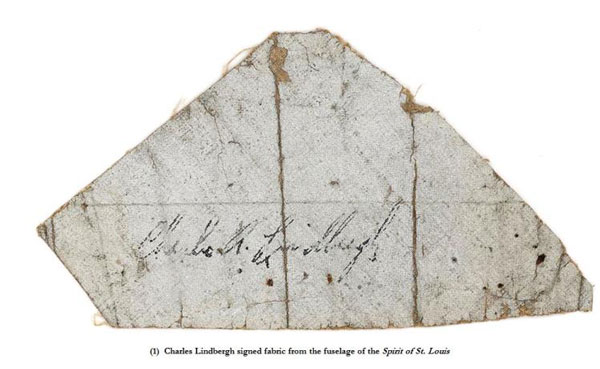 Currently, there have been 8 bids placed, pushing the price to $8000.  And while that may already sound pricey, the piece of fabric is expected to fetch much more, in part due to its rarity.  Several additional items will also be included with the signed piece of fabric, which measures roughly 4 1/2″ by 2 1/2″:
 A smaller rectangle of similar fabric in unused condition identified on the verso as "Toile Américaine," possibly used to replace the plane's fabric-covered fuselage
An unpublished photograph of the Spirit of St. Louis off in a Le Bourget hangar, showing the damage to the fuselage.
An unpublished photograph of the aircraft surrounded by several people
A note, in French, stating: "The fuselage was recovered with fabric in a hangar at Le Bourget by Master Sol Louise [sic] of the Compagnie Internationnale [sic] de Navigation Aérienne [CIDNA] in May 1927;"
An envelope stating: "Provenance: Canvas from The Spirit of St. Louis / Bourget after first crossing / father Mr. Lacour was the personal physician
A second envelope addressed to "Monsieur le Doctor Lacour" and marked "personal."
The auction is part of a larger group of "Five Centuries of Rare Autographs and Manuscripts" being auctioned, and while much of it is unrelated to aviation, there are some other interesting aviation pieces, such as a signed letter and manuscript from aviator Bud Gurney, recalling his barnstorming with Lindbergh, and a signed photograph of aviator Clarence Chamberlin.