The 5-Blade Composite Hartzell propeller will be offered as a factory option for new Piper M600 aircraft.
Speaking at the recent 2017 Sun 'n Fun Fly-In and Expo, Piper announced that they've received approval from the FAA to equip the Piper M600 with a Hartzell 5-blade composite swept tip propeller, and have developed a personalization package for the aircraft.
More Details on the Hartzell 5-Blade Propeller
The 5-blade composite propeller was designed specifically for the Piper M600, and features "thin, maximum efficiency airfoils" that offer increased performance, durability, reliability and an added amount of, well, cool. According to Piper, the advanced design of the 5-blade carbon composite propeller, with a stainless steel shank, nickel cobalt leading edge, and mesh erosion screen for FOD protection, makes them between five and ten times stronger than similar wood core props and allows for an unlimited life certification.
Simon Caldecott, Piper Aircraft's President and CEO, adds that "Piper's offering of the Hartzell 5 blade M600 composite prop provides a contemporary look and enhances cabin comfort by reducing in-flight vibration." Starting in 2017, the 5-blade composite prop will now be offered by Piper as a factory option for new Piper M600 aircraft.
More Details on the Piper M600 Personalization Package
The new Piper M600 personalization program, being called Expression, or EXP, will allow customers to have a greater hand in the interior design of their new M600. Some of the M600 EXP package enhancements will include:
Custom appointed ceiling bezels
Leather wrapped yokes and cockpit assist handles
Seat pattern styles that include a choice of both stitching color and stitching pattern
Choice of embroidered or embossed logos
Customized threshold and cockpit plates
Personalized customer logos
Customers will also have a choice fo predetermined or newly developed paint schemes for the exterior of the M600. For the paint schemes, Piper has developed 4 new custom design options, while also offering customers the ability to select paint color choices from an extensive list. Finally, as an added bonus, Piper has partnered with Tumi luggage to provide a set of two lightweight, polycarbonate luggage pieces for M600 customers that are designed to match the interior trim color selected for new aircraft.
Ron Gunnarson, the VP of Sales and Marketing at Piper Aircraft, said that "Many of our customers have asked us for a way to put their personal touch on their aircraft – even beyond the interior packages currently available. In working with our dealers and customers we identified ways to further improve the interior while giving customers the ability to express their individuality."
Customers who purchase the EXP package for the M600 will be given the opportunity to travel Piper's Vero Beach factory and work one-on-one with a design consultant on their EXP package options. In addition, during the visit, customers will be given a behind the scenes look at the construction of their aircraft and have the chance to meet the people designing and building the aircraft.
---
Piper Arrow: Continually Refining a Winning Design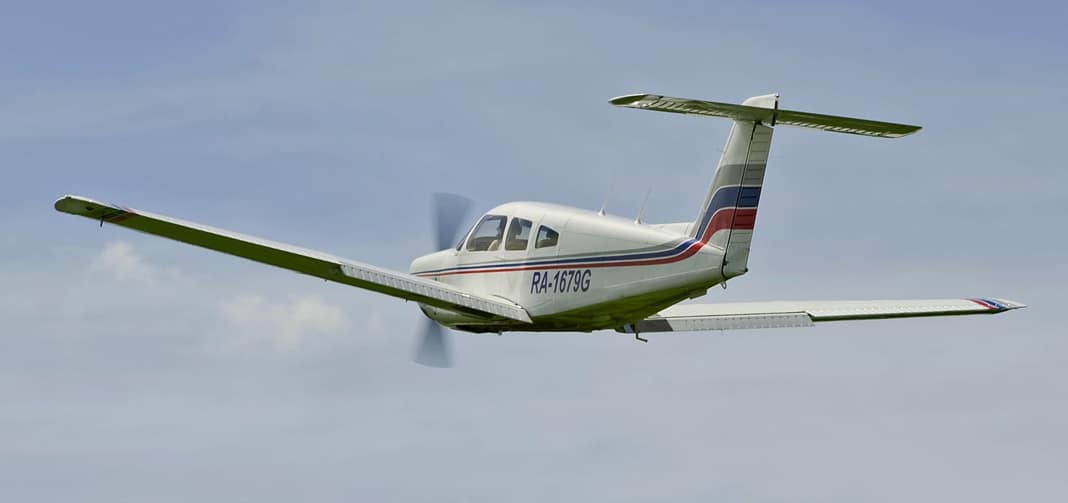 Airplane manufacturers often find that one of their designs "sticks" to pilots and they take that winning design and modify it, continually improving on the original design over decades of production. For Piper Aircraft, the PA-28 was it.
Piper introduced the PA-28 Cherokee in 1961 as a cheaper alternative to their PA-24 Comanche, and to compete with the Cessna 172. [Click to read more…]
---
Piper M600 Specs1
| | |
| --- | --- |
| Engine | Pratt and Whitney PT6A-42A, 600 shp |
| Length | 29.7 feet (9.05 m) |
| Height | 11.3 feet (3.44 m) |
| Wingspan | 43.16 feet (13.15 m) |
| Fuel Capacity (Usable) | 260 gallons (984 L) |
Weights
| | |
| --- | --- |
| Max Takeoff Weight |  6,000 pounds (2,721 kg) |
|  Max Ramp Weight |  6050 pounds (2,744 kg) |
|  Standard Equipped Weight |  3,650 pounds (1,656 kg) |
| Standard Useful Load |  2,400 pounds (1,089 kg) |
Performance
| | |
| --- | --- |
| Max Range (Endurance cruise settings) | 1,484 nm (2,748 km) |
|  Max Cruise Speed | 274 ktas (507 km/h) |
| Takeoff Distance (Over 50 ft obstacle) | 2,635 feet (803 m) |
| Landing Distance (Over 50 ft obstacle) |  2,659 feet (810 m) |
| Max Approved Altitude |  30,000 feet (9,144 m) |
Featured Image: Piper M600 with 5-Blade composite Hartzell propeller, courtesy of Piper Aircraft
1 – Piper M600 Specification and Performance, Piper Aircraft, Retrieved 4-10-17