Piper is listing the 2016 M350 model at a price of $1,155,500.
Piper Aircraft has been awarded a validated type certificate for the Piper M350 by the European Aviation Safety Agency (EASA), opening up the European market for the M350.
According to Simon Caldecott, the CEO and President of Piper Aircraft, "The Piper M350 is the only current production pressurized piston-engine aircraft now on the market, making type certification by EASA an important achievement." He added that single-engine aircraft are a key part of Piper's focus, especially delivering advanced safety features that set their aircraft apart, such as the emergency descent mode, which "automatically descends the aircraft to lower levels in the rare case the pilot is incapacitated at altitudes where oxygen is required."
According to Piper, the M350 comes with the "Garmin 1000 avionics suite, electronic stability protection, underspeed protection, coupled go around and automatic level mode." The M350 has seating for six in a club arrangement and is powered by a Lycoming TIO-540-AE2A 350 hp engine which allows for a 213 ktas (395 km/h) max cruise speed at altitudes of up to 25,000 feet.
Featured Image: Piper Aircraft
---
8-24-16 Piper M500 Receives EASA Certification
Piper Aircraft has announced that the Piper M500 has received certification from the European Aviation Safety Agency (EASA), which clears the way for Piper to introduce the M500 to the European market.
According to Simon Caldecott, Piper's President and CEO, "EASA certification is an important milestone allowing us to kick off a major sales campaign to bring the M500 to the European market." Caldecott noted that outside of the US, the Piper M500 is certified in Brazil, Canada, Japan, and now Europe.  He added that this certification is significant because "there is a growing demand for an aircraft that offers the advanced safety features and the best value proposition of any aircraft in its class. Its reliable Pratt & Whitney PT6A-42A engine, unpaved field approval, and added safety of the enhanced autopilot flight control system, make the M500 well-suited for European topography and the market's requirements."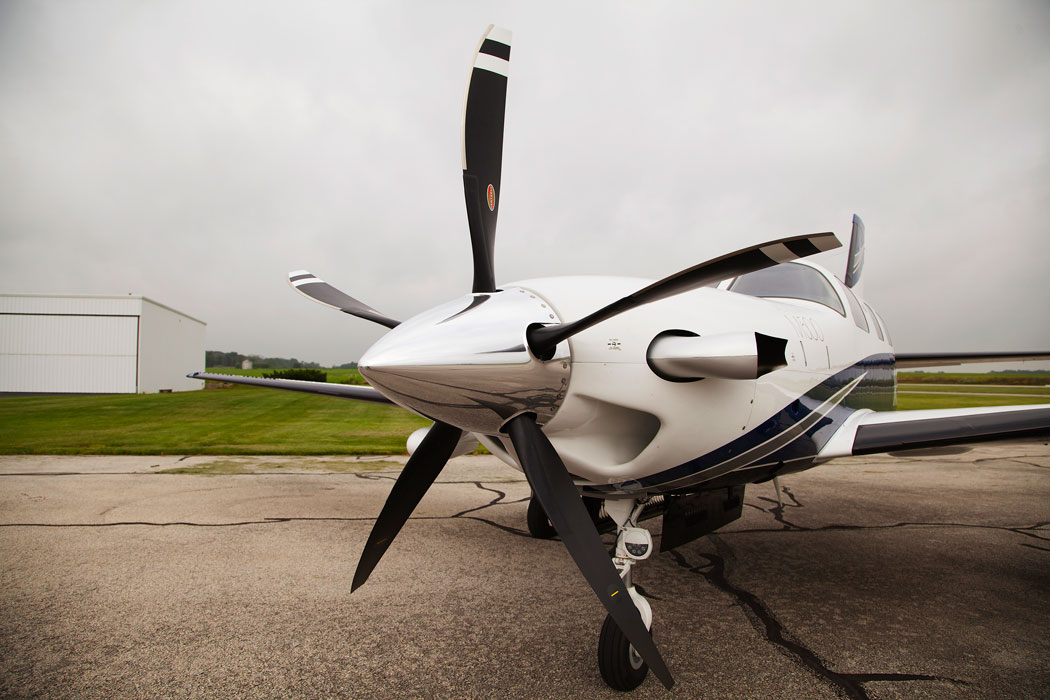 Further Details on the Piper M500
The $1.9 million Piper M500, a single-engine, six-seat turboprop, features Garmin G1000 avionics with Electronic Stability Protection, Underspeed Protection, Coupled Go-ROund, Synthetic Vision Technology, Automatic Level Mode, and the GFC 700 autopilot as standard equipment.
The M500 also includes the Aspen EFD-1000 standby instrument, a GTX 33 Extended Squitter Transponder, and an optional GTS 825 Traffic advisory system, which when combined with the GTX 33ES, provides the aircraft with both ADS-B In and Out functionality.
Specs for the Piper M500
ENGINE
Pratt & Whitney Canada PT6A-42A, 500 SHP
PROPELLER
Hartzell 4-Blade, Constant Speed, Reversible
FUEL CAPACITY
Usable: 170 gallons (644 liters)
DIMENSIONS
Wingspan: 43 feet (13.1 m)
Length: 29.6 feet (9 m)
Height: 11.3 feet (3.4 m)
WEIGHTS
Maximum Takeoff Weight: 5,092 pounds (2,310 kg)
Maximum Ramp Weight: 5,134 pounds (2,329 kg)
Standard Equipped Weight: 3,436 pounds (1,559 kg)
Standard Useful Load: 1,698 pounds (770 kg)
PERFORMANCE
Maximum Range (with 45-minute reserve): 1,000 nm (1,852 km)
Maximum Approved Altitude: 30,000 feet (9,144 m)
Maximum Cabin Differential: 5.6 PSID
Takeoff Distance (over 50-foot obstacle): 2,438 feet (743 m)
Landing Distance (over 50-foot obstacle): 2,110 feet (643 m)
Maximum Cruising Speed: 260 ktas (482 km/h)
For more information on the Piper M500, you can visit Piper's website.