Mooney International has announced a new CEO and President, Dr. Vivek Saxena. Saxena has 25 years of experience in the aerospace industry, including 16 years at Pratt & Whitney in different management roles and most recently as an aerospace consultant with ICF International. He graduated from the Indian Institute of Technology and holds a Ph.D. in Aerospace Engineering from Cambridge University, and a  Master's Degree from the University of Minnesota.
Saxena is replacing Dr. Jerry Chen, who led the company through its re-launch phase. In addition, Chen was instrumental in restarting M20 production in Kerrville and opening a research and development center in Chino, California, focused on a new line of diesel-powered, composite M10 aircraft. Chen will transition to a senior advisory role with the company as they continue to focus on manufacturing both new M20 Ultras this year and the new M10 models in the years to come.
Dr. Saxena Discusses His Role as the New Mooney CEO
According to Dr. Saxena, "A tremendous foundation has been laid by Dr. Chen, and the entire Mooney team – both at our factory in Kerrville and our research & development center in Chino. Their collective vision, forward thinking and never-ending commitment brought Mooney back, and placed it in a position to thrive." Saxena added that it is his goal to push the company to the next level and help establish long-term success.
"We now have the critical components of success in place," Dr. Saxena continued. "A compelling brand, a world class team, strong investor commitment, and a new product pipeline. Most important, we are dedicated to a long-term strategy of differentiating ourselves on technology, rather than simply bringing a collection of 'me too' products to market. These are amazing times at Mooney – and I'm proud to say there are even greater things to come."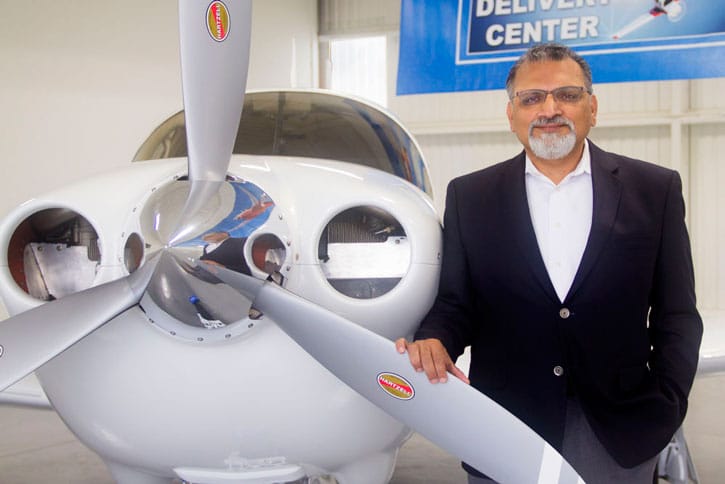 Dr. Saxena will be transitioning into his role as the new Mooney CEO this month, and split his time between the companies Kerrville and Chino facilities. Company officials say they expect to earn FAA certification for both the Acclaim and Ovation Ultras by the end of Q3.
Featured Image: courtesy of Mooney