Bob Hoover's remarkable time in aviation saw him fly airplanes as a test pilot, combat pilot, and aerobatic pilot.
Good news for those who are not able to attend the Bob Hoover Memorial Celebration this coming Friday, November 18, 2016: it's going to be live-streamed. The memorial will be taking place at Clay Lacy Aviation, at the Van Nuys airport in California, from 2 PM – 4 PM PST. In addition, an hour of preliminary interviews and discussions regarding the life of Bob Hoover will also be live-streamed, starting at 1 PM PST.
Those interested in viewing the live stream can do so by visiting this web page here, or through the embed below on this page, which should go live on Friday, from 1 – 4 PM.
The event will be hosted by aerobatic pilot Sean D. Tucker, and pilot / air show announcer Danny Clisham. According to the event organizers, Aero-News Network, Clay Lacy, Tucker, Clisham, and many additional people and organizations have donated their services to support the event.
If you are not able to watch the live stream, Aero-News Network will be offering the entire event "via archived programs and edited excerpts" that will be posted to their YouTube channel. The event organizers also plan on releasing the memorial to DVD as well, "in support of Hoover related programs and charities."
---
Original Post 10-25-16: Legendary Test Pilot and Showman Bob Hoover Has Died at Age 94
Early this morning, around 2 AM PST, legendary aviator Bob Hoover passed away. He was 94 years old.
General James 'Jimmy' Doolittle called Hoover the 'greatest stick-and-rudder man who ever lived,' and when looking at Hoover's 70 plus years flying airplanes, it's hard to argue with that assessment.
A Brief Look At Bob Hoover's Time as a Pilot
Bob Hoover began learning to fly at the age of 15, paying for lessons with the money he earned working as a grocery store clerk. He initially struggled with nausea when flying, but rather than quit, Hoover instead focused on practicing maneuvers such as chandelles, rolls, loops and spins in order to overcome the problem.
After joining the Air Force in 1940, Hoover began by flight testing fighters and bombers, before eventually flying Spitfires as part of the 52nd based in Sicily. During a dogfight off the coast of France, he ran up against 4 Luftwaffe Folke-Wulf 190 fighters and was shot down. After spending 16 months as a German POW, he escaped, stealing an FW190 and flying it back to Holland, and freedom.
After the war, Hoover was a test pilot for the military, flying several prototype jet and rocket aircraft. He was originally supposed to be the X-1 test pilot, but due to a disagreement with those in charge, his good friend Chuck Yeager was selected instead. After his military service, Hoover also served as a test pilot for North American Aviation, flying T-28s, F-86 Saber jets and more.
Hoover then flew as a top-billed aerobatic pilot, demonstrating the flight characteristics of the Shrike Commander as only he could, putting the executive aircraft through incredible maneuvers and stunts. Hoover also flew his trademark yellow P-51 Mustang ('Ole Yeller) in airshows across the country, delighting fans with his astounding skill
Finally, at the age of 85, Hoover decided his performance was no longer at peak level, and his precision while flying was drifting, and he made the decision to retire from the cockpit. For a more complete accounting of Bob Hoover's life, check out our profile.
---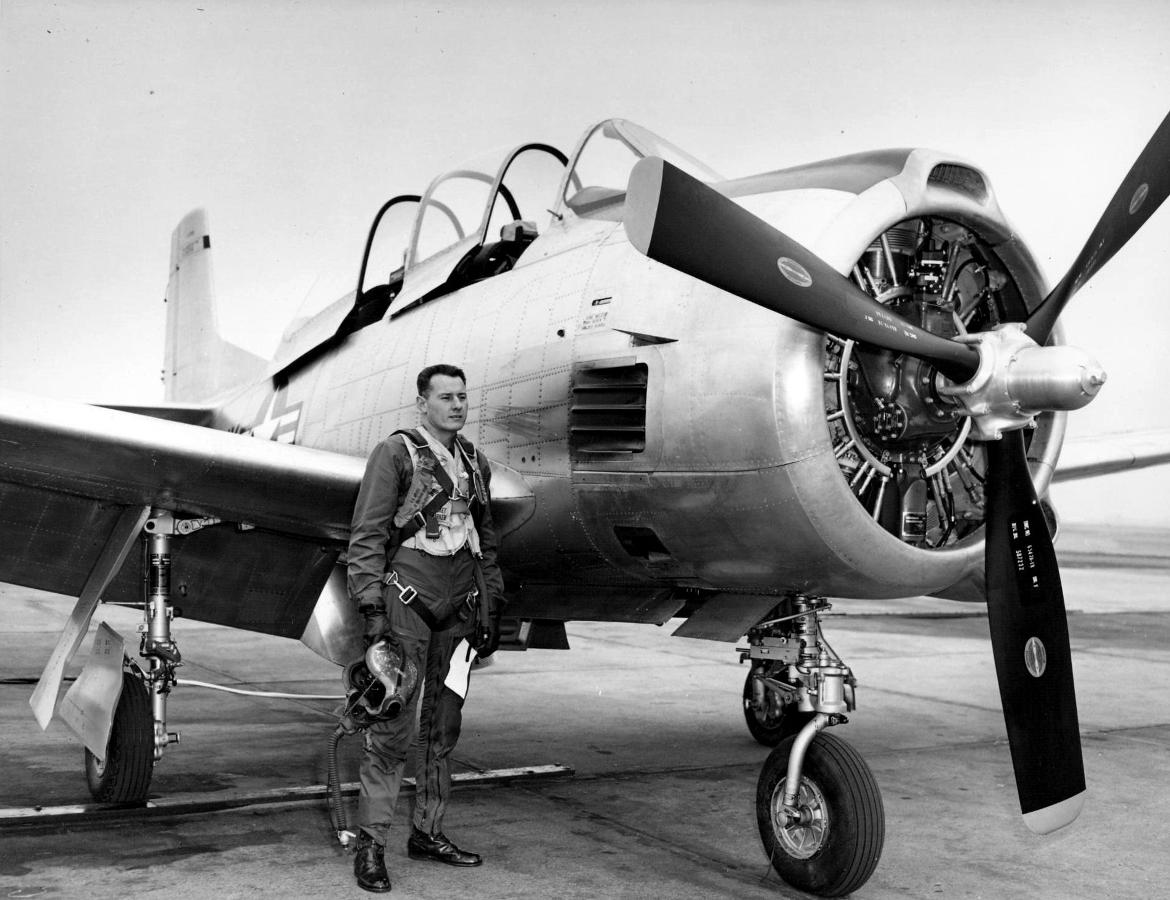 In the annals of flight, few names have left such a lasting impression as Robert A. "Bob" Hoover. He has been recognized and praised by some of the top pilots worldwide.  With a career that spans over 7 decades, he has inspired and instructed many pilots. His daring exploits demonstrated to trainee pilots how responsive their aircraft could be and gave them the confidence to deal with tough situations.
During his stellar career, Hoover was no stranger to controversy. On several occasions, [Click here to read more…]
---
Reactions From the Aviation Community
After news of Hoover's death broke, praise, love and fond memories of the aviator poured out from around the community. According to EAA's CEO and Chairman Jack Pelton, "We lost a true, one-of-a-kind aviation hero today. We all knew of Bob's incredible aviation career and witnessed his unmatched flying skills. It was Bob Hoover as a person that also made him legendary. He was a true gentleman and unfailingly gracious and generous, as well as a true friend of EAA through the years. We can only hope to use his lifelong example as a pilot and a person as a standard for all of us to achieve."
NBAA President and CEO Ed Bolen said, "Bob Hoover has been a source of awe and inspiration, who has provided a shared connection for generations of aviation enthusiasts." Bolen also echoed Pelton's sentiment, saying that Hoover's boldness and grace as a pilot was matched only by his character as a man.
GAMA President Pete Bunce called Hoover's death a tremendous loss to the entire aviation community, adding that "Bob was a great friend and mentor to countless aviators in the military, manufacturing, test pilot, and airshow segments of our profession. No one else in history has had his 'hands' and knowledge of how to maximize the performance of an aircraft in all corners of the envelope."
Godspeed Bob Hoover. //t.co/hn6CrnTKfz

— NASA History Office (@NASAhistory) October 25, 2016
Aviation war hero.
Groundbreaking test pilot.
Air show extraordinaire.

Blue skies & tailwinds to our friend Bob Hoover. pic.twitter.com/1mIoCyuohz

— Embry-Riddle Univ (@EmbryRiddle) October 25, 2016
Rest in peace, Bob Hoover. We honor your memory as one of the greatest test pilots who has ever flown.

— Dassault Falcon (@DassaultFalcon) October 25, 2016
We mourn the passing of our friend Robert A. "Bob" Hoover, "The Greatest Stick and Rudder Man Who Ever Lived." pic.twitter.com/RNElnHfoMP

— SmithsonianAirSpace (@airandspace) October 25, 2016
Along w/the entire aviation community, we're sad to hear Bob Hoover has flown west. We reflect on his achievements //t.co/AE77hucMz9 pic.twitter.com/qBNrL29Ovy

— AOPA (@AOPA) October 25, 2016
I don't think I possess any skill that anyone else doesn't have. I've just had perhaps more of an opportunity, more of an exposure, and been fortunate to survive a lot of situations that many other weren't so lucky to make it. It's not how close can you get to the ground, but how precise can you fly the airplane. If you feel so careless with you life that you want to be the world's lowest flying aviator you might do it for a while. But there are a great many former friends of mine who are no longer with us simply because they cut their margins to close. – Bob Hoover