Bringing You the Lowdown From the 2016 Sun N' Fun International Fly-In and Expo
The 2016 Sun N' Fun International Fly-In and Expo is a pilgrimage for over 200,000 pilots and aviation enthusiasts as they head to the season opener of airshow season. It's the first chance of the year to roll out new aviation products, challenge springtime weather, show off your airplane, and purge all those aviation stories you've been saving in the storytelling section of your brain.
As I strolled from one end of the airshow to the other, coated in Florida sunshine, sunscreen and dust, I could see a pattern emerge depending on where I was at the airport. The area I enjoy most, which really isn't part of the airshow, is all the airplanes in the tie-down area. I enjoy seeing who's there and where they flew in from. Most have stories about the challenging slot arrival times and of course, the weather. The aircraft are divided into general areas and with each section comes its own type of charm.
General Aviation Parking
This area is for the busy aviation enthusiast who doesn't mind the challenge of slot times and saturated airspace and just wants to fly in for the day and watch the show. These pilots will put in an 18-hour day if it means they get to spend the day at an airshow. They'll plan for weeks and usually have a map of the event laid out and know every single booth they're going to visit before they arrive. Often, the vendors will recognize them from last year. These pilots like talking about the equipment just as much as buying it. They are the lifeblood of aviation.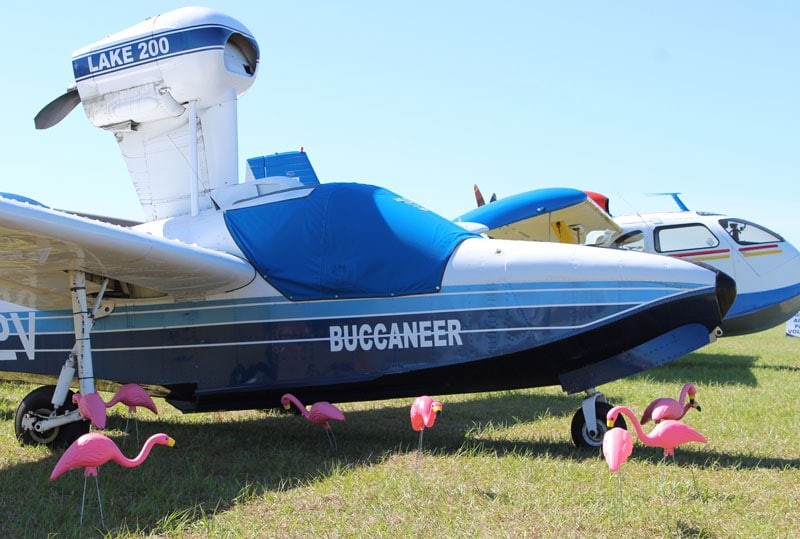 Seaplane Parking
These pilots take aviation a step further and blend it in with their love, and demands, of the water. Their world is just a little bit bigger than everyone else's. They'll slap a pair of floats on almost anything with wings, just to see if they can do it. The result is often an airplane that doesn't have great speed performance, but it has enough to get them to places where the rest of the world doesn't exist. The destination is their goal and they're in no hurry to fly back to the chaos of the world, so they're willing to be slow and happy.
Homebuilt Parking
There are toolboxes everywhere and everyone there knows how to use them. There are airplanes built from scratch, from kits, and from plans. They're made of wood, fabric, composite, metal and sometimes a little speed tape. These pilots are mechanically creative and can't help but analyze every aircraft they see with ideas of how to make it faster and more maneuverable. Some of the homebuilt aircraft have only one seat, so they have an excuse for getting out of the house, alone. But, when they get to the show, they spend their time talking about the challenges of their aircraft and gathering ideas of how to make it better. These ideas drive aviation. They are the future. The aircraft parked here spawn the ideas of tomorrow's aviation.
Vintage Aircraft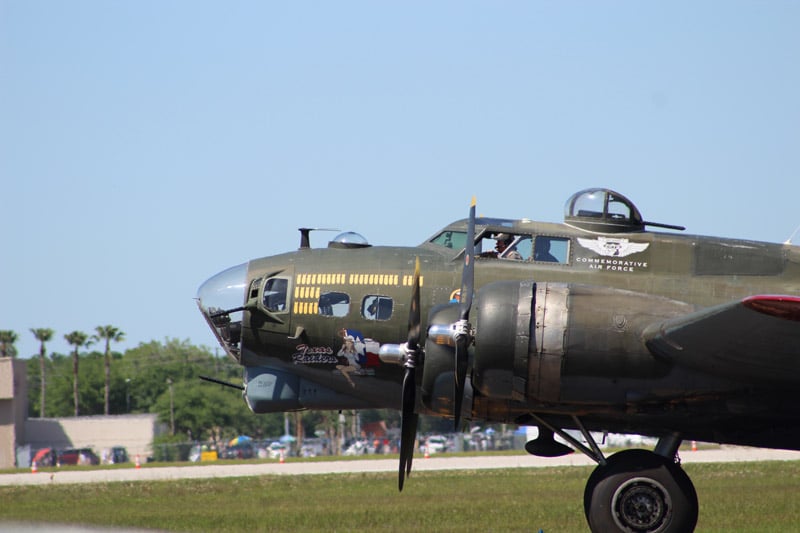 Only aircraft built from 1970 or earlier are permitted to park here. These pilots cringe to think that 1970 is vintage, but time flies. You'll find a few more ropes to keep greasy noses away from windows, not because they don't want you near their airplane, but because these aircraft and parts are irreplaceable. These airplanes are held together with protective love and the desire to preserve a moment in aviation time when this was perfection. Sitting in these aircraft is a pilot's chance to be in a different era with different ideas and philosophies. So, something as simple as an old pitot-tube that might catch on a spectator's backpack could possibly ground the airplane forever (or until they can duplicate the original). They can't take that chance, so these vintage aircraft have earned the right to be protected and respected from a distance.
Aircraft Overnight Camping
This is my favorite category. All these aircraft and pilots can also be placed in this category and with it brings a whole other personality pattern. Pure joy and these pilots know how to party.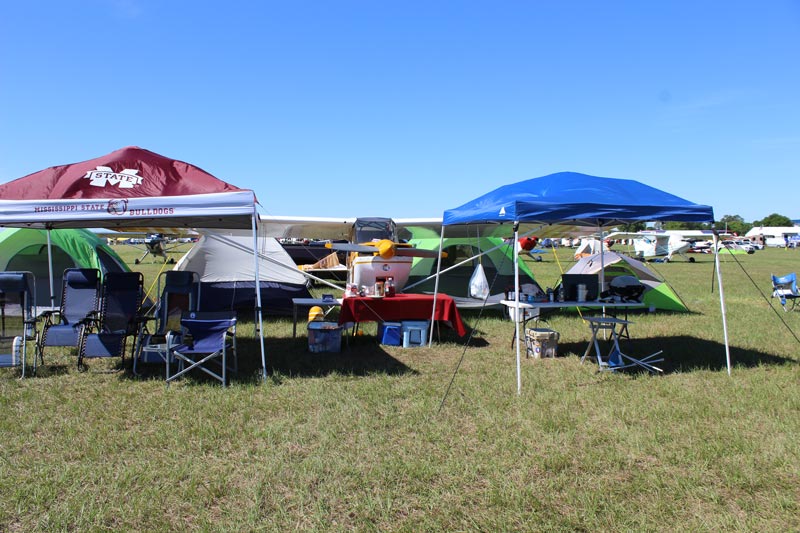 The airplane overnighters are diehard aviation enthusiasts. They literally sleep, eat and breathe around their aircraft. Some for the entire airshow. They'll leave days before the show starts to make sure they're in position for their arrival slot time. They'll endure the elements, porta-potties in the heat of high noon, and since it's pay-by-the-minute, the quickest showers possible. These pilots can survive on airshow food for ten days and they know which booth has the coldest beer. They'll develop a low-level airshow odor after about the third day, but since they all smell about the same, no one will notice except those who aren't staying overnight. These pilots make airshows a tradition and they agree to meet up at the same time and place next year. They make friends here that they can legitimately call a friend, even though they only see each other once per year.
As I walked through the overnight camping area, seeing the tidy tents tucked neatly under aircraft wings, I was comforted by seeing the enthusiasm and gratitude these pilots had for simply being here. They acknowledged their pride of aircraft ownership and an appreciation that they found their solace in aviation…and they want others to find it too. They are happy to share their stories and enthusiasm for the industry. One such gentleman, Dean Baker, caught my eye while sitting in his lawn chair under the wings of his deep maroon 1949 Stinson.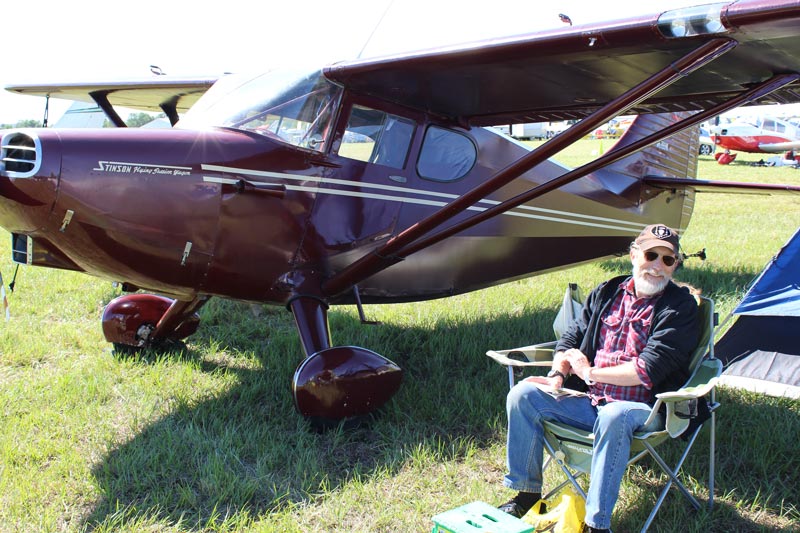 Dean's first trip flying into Sun 'n Fun was in 2012 and this was his second trip flying in – but he has attended previous years by driving in. Dean is an A & P mechanic so he brings with him a wide aviation background, but he still learned a few things at the airshow. "As an A & P, I am familiar with large aircraft. Since I was new to General Aviation, I relearned a lot about the old engine and fabric covered airframe. I learned a lot and made some great contacts (including the club forum) about working on the Stinson/Franklin. My model Stinson is nicknamed the 'Station Wagon.' It has about 2,740 hours on the airframe and cruises around 100 knots, but the best feature of my airplane is that it stands out in a crowd…and it draws a crowd. The unique color, large tail and art deco wheel pants really set it off. The bonus is that it flies better than most of the modern planes I have flown."
Dean's current flying goal is flying into most of the WWII bases in Georgia and he is 95% complete. "It's a great way to step back in time and a great way to visit Georgia." It's just one, among many, advantages of having your own airplane. The common thread that holds all these pilots together is their shared love of the adventure, challenge, and independence that aviation gives them. The idea of strapping into a flying machine and going to where the road ends motivates these pilots to educate themselves on the aviation industry and they help do this by sharing their experiences with each other.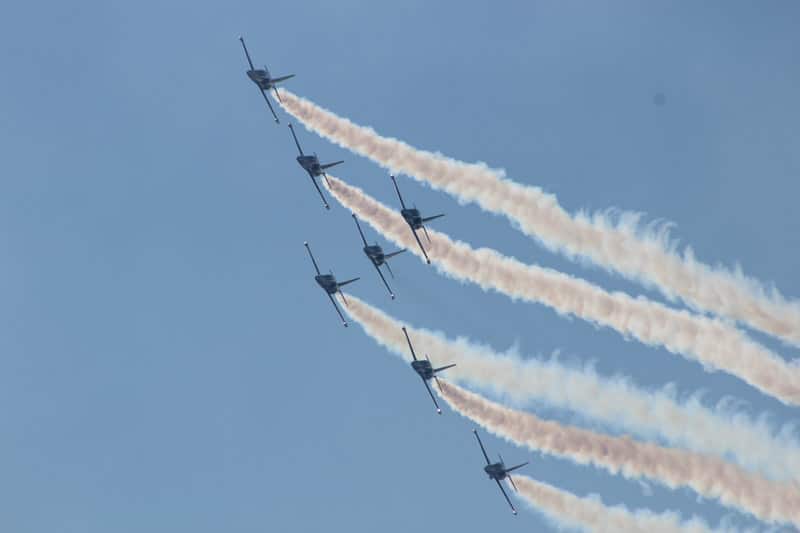 Now that the 2016 Sun N' Fun International Fly-In and Expo has wrapped up, we get to tuck those memories into our happy place. This year's show drew in 15,831 people from 60 other countries, so spectators got to swap stories with pilots from around the world. We'll all remember the awe of watching airshow performers do maneuvers in their airplanes which you wouldn't think possible. We respected the precision of the formation flights and knew how difficult it really is, even though they made it look easy. But most of all, we'll remember the characters that we've met, the stories they've told, and the promise of airshows to come…
Resources:
For the summer 2016 airshow schedule, go to: //www.airshows.aero/Page/ASCalendar