San Diego Part 2
There are some questions that you answer 'Yes' to when asked.
"Do you want to fly to San Diego in a Cessna 421 Golden Eagle and help make a sweet aviation video?"
Yes, yes I do. My answer was in no way influenced by the fact that it was a gray and overcast February in Salt Lake City where the temperature hovered within a few degrees of freezing during the day, and that San Diego currently had bright, sunny weather in the mid 80s. I was driven purely by my desire to be part of an amazing artistic endeavor and work with talented friends on a great video project.
OK, and maybe a little bit the weather thing.
As outlined by Bryan in San Diego Part 1, there were many roles that needed filling. I didn't have the experience or knowledge to serve as a camera man, or the necessary charm and people skills to serve as field producer, so I was going to serve as the DIT, or Data Ingest Technician for this video production. Which isn't to say that the DIT role requires no experience or skill. It's a very important role in any video production, and one you don't want to assign lightly. I'd had experience with it in the past, and felt like I had a good grasp on what to expect, and what was expected.
Boy, was I wrong. While I did have experience with the role of the DIT in the past, this was on a scale that was far larger than what I imagined, or was initially prepared for. First, let me go through some of my main responsibilities as a DIT:
Provide blank media (such as CF or SD cards) to all the camera men so they can fill the cards with footage.
When the cards are full, or if there is an appropriate break in shooting, collect the cards, and provide the camera men with fresh cards so they can either keep shooting, or be prepared to start shooting at a moment's notice, if necessary.
Copy all the footage off of the media and onto portable hard drives.
Double and triple check to make sure you got ALL the footage copied off.
Try to keep the footage organized in a way that's going to make sense later to the person or persons who will be editing the video.
Pray that you got all the footage copied off  the cards and didn't miss any when the cards are formatted so they can be used again.
Keep track of all the cards, hard drives, and other computer equipment necessary to copy/transfer the footage.
Review as much footage as possible to help give the director, if he asks, some idea of whether or not he's getting what he wants, and be able to show him specific footage upon request.
That's not an insignificant (or complete) list of duties. And up until this point, most of the video production experience I had was on shoots that were a day, maybe two in length, and took place in controlled environments, and on a set schedule. None of those conditions applied here.
A short, long time: We were scheduled to shoot for four days. Definitely the longest shoot I'd been primarily involved with up to that point. But, it's just four days. Four days, as it turns out, where I lived at DEFCON 2, struggling mightily to not to screw things up or lose any footage, and tried not to be the target of Jim Petersen's always active quick wit. In regards to the latter, this meant mostly trying to stay one step ahead of Brandon, who became Jim's target of choice.
Controlled environment and schedule: Not even close. We were constantly on the move, shooting at all kinds of different locations both indoor and outdoor like the beach and surf school, restaurants, multiple different airfields, museums and more. We had a schedule, and we worked very hard to keep to it, fighting everything from delays to traffic and the occasional need to reschedule. For me, this meant always trying to find outlets to keep my computer and various batteries charged. This also meant dropping footage on the go, which is something I'm not entirely comfortable with, as bumping a portable hard drive loose from the computer can (worst case) result in everything from losing footage to frying the drive.
The Size: Often, the transfer of footage to the hard drives and attempts to organize it took me hours into the night. I wasn't ready for the massive amount of footage we were dealing with: Terabytes instead of Gigabytes. And with footage coming from at least four different types of cameras, it was often difficult to organize.
OK. So, it was hard. But, the rewards were of the once in a lifetime variety. I mean, watching three veteran aviators trying to surf for the first time? Instant hilarity, and something I'll never forget! (I keed, I keed). Seriously, though, I got to be a part of some great experiences.
Cessna 421 Golden Eagle: I got to fly out to San Diego and back in John Sorenson's Golden Eagle. This was my first time in a pressurized, twin-engine turboprop, and it did not disappoint.  Much like its namesake, this plane soars through the skies at a cruising speed of somewhere close to 'Oh, we're there?' It's also a very comfortable ride, and I was very thankful that John allowed a couple of us ne'er-do-well video types to share such an amazing airplane with him for a few hours. And hearing how John spoke about his plane, and how he treated her, it was obvious that this was the plane of his dreams.
Jim, Jim, and John: I already knew Jim Hoddenbach fairly well, but this trip was a chance to get to know him a little better, and meet two of his close friends, Jim Peterson and John Sorenson. All three of them are interesting personalities, and it was great fun to watch their shared camaraderie. One of my favorite experiences on the trip was in St. George, at the Gun Barrel. Over dinner, Jim, Jim and John started sharing stories. And if there's something veteran aviators are good at, it's telling stories. Multiple times, I found myself sucked in to what they were saying, and forgetting that I had a job to do. I could have listened to their stories all night.
Surfing under the instruction of the San Diego Surf School: I've never surfed, but after watching The Three J's (also a great R&B group) give it their best, it looked like something I need to do. Really hard, but a lot of fun! As part of the surfing, we wanted to get the action up close, so we rigged the surfboards with GoPro cameras, as you can see from this frame: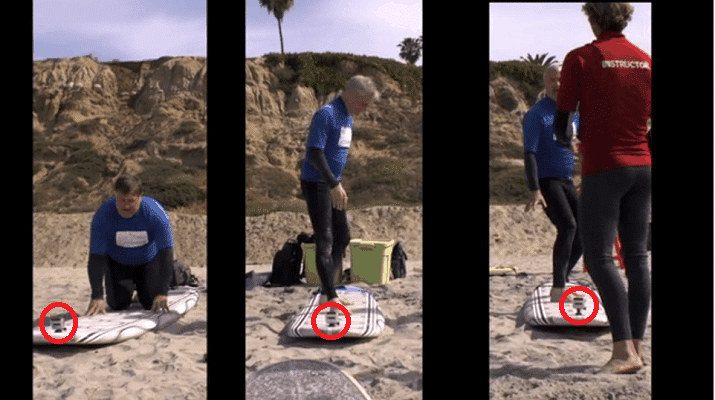 But as you watch part 2, you may notice there's only a brief clip from that surfboard mounted perspective. So what happened? Well, the mounting didn't hold up to the rigors of the surfing and ocean water, and the cameras went overboard. We managed to recover one, but the other two were lost to the drink.
All in all, though it was stressful and I did many things wrong or poorly (leading to much heartache in post), it's still my all time favorite shooting experience. I hope I did well enough that I'll be invited to come along next time, and I hope that I learned enough, that I'll do a better job next time. Stay tuned, as Jim Hoddenbach will be sharing some of his thoughts about part 3 of our San Diego trip!