An A & P IA Mechanic discusses buying and restoring an old Piper Cherokee
A few weeks ago a new client came to the shop. He was looking for some advice and help in purchasing an airplane. He currently owned a Piper Cherokee 140 that he had purchased a few years ago and had learned to fly in. When the annual was due earlier this year he took it into a local repair station and it was found not airworthy for a number of reasons. The estimate for the shop to get the airplane signed off was over $10,000.
Rather than spend all that money to fix the Piper Cherokee, he had decided to sell it "as is" and upgrade to a more capable aircraft.
We spent an hour or so talking about various aspects of the aircraft he was interested in purchasing. As we were finishing up I couldn't help but ask about the plans for the old Piper Cherokee. Its not that I was particularly interested in that Piper Cherokee, but that I seem to be drawn to aircraft that need saving. He told me he wasn't sure what he was going to do yet but had been thinking about calling a salvage yard to see what they would offer. The idea of parting out an airplane has always been difficult for me to swallow because they nearly always can be fixed. It seems wrong to end the existence of one of these magical flying machines when it really doesn't need to. I understand that sometimes they do become uneconomical to repair for an owner and spending more money on them is simply not prudent. But someone should step up and save these airplanes that need help. This is where the term of endearment Corey described in his recent article about the Cessna 150, "the sick airplane and refugee camp" comes in. This is what my hangar is, this is what we do, save airplanes.
Generally speaking, I have never been a big Piper Cherokee fan. But when I learned of the potential fate of this particular Piper Cherokee, I asked the owner to keep me in the loop. And told him I would be willing to pay whatever the salvage company would offer, knowing I could do whatever was necessary to get it airworthy again.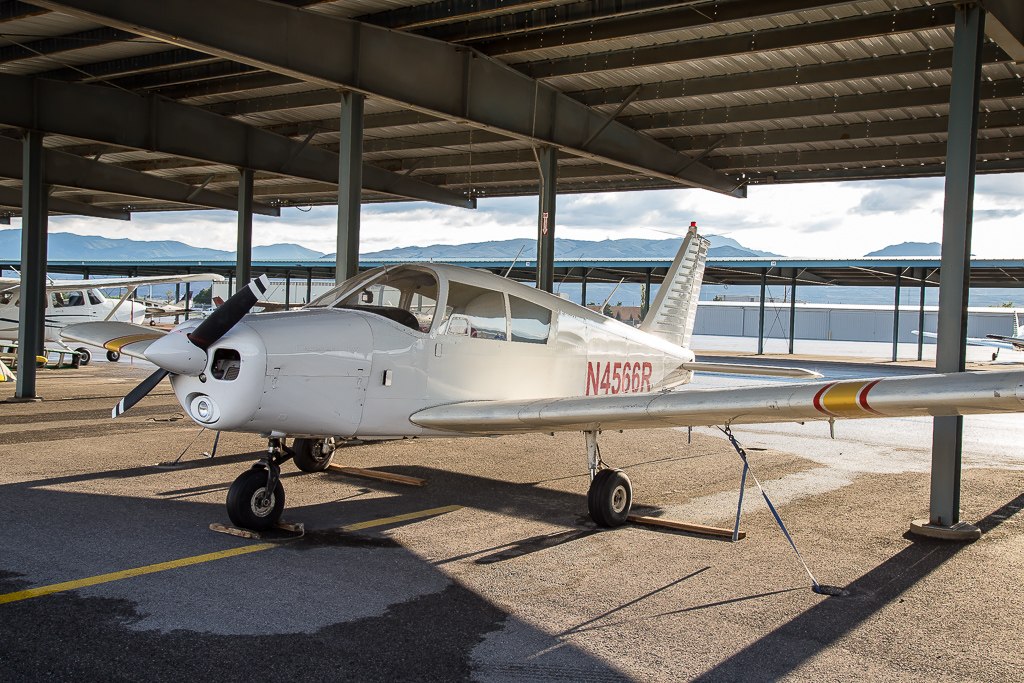 A few days later I stopped by the nearby airport where the airplane was tied down and took a quick glance at it. I was about as impressed with it as I imagined I would be. As I said, I am not a Piper Cherokee guy. I could see the cracked wing skins, rough paint, and general old tired appearance. It was obvious it would take some work to get it back in good health again but I could see it had potential and might even be able to make a small profit. I also considered the possibility of Corey helping with the project and then using it for his instrument rating.
I didn't think much of it for the next week or so until I got an email informing me I could have the aircraft for the same price the salvage company offered. I accepted the offer and began thinking about the project and making plans. Suddenly I became surprisingly excited. I began to see past all the imperfections and could visualize a cleaned up, repaired and airworthy version of this new friend. The airframe itself had been repainted with a solid base white color and red N numbers but the wings had been left with the original very weathered and deteriorated paint. It felt like 30 grit sandpaper when you ran your hand along its surface. Both wings had cracks in the skins in a couple places and would obviously need replacements.
66R had some good things going for it also. The engine was mid time and the log books were complete and nearly up to date but the real bonus were the avionics. New radios had been installed in the last couple years and included a nearly full IFR package. If I were to add an additional Nav/Com it would be a nicely equipped airplane for instrument training. My plan would include the paint, new upholstery, new windows and the addition of the radio I mentioned. I would also plan to build a new custom instrument panel that would give a modern and fresh look as well as a rearrangement of the instruments to a more current standard layout. All this and a thorough annual inspection and I would then make the plane available to Corey for a period of time for his instrument training. Then, put it up for sale and hopefully recoup my investment plus a little. Equally important, one more airplane will have been saved from the junkyard.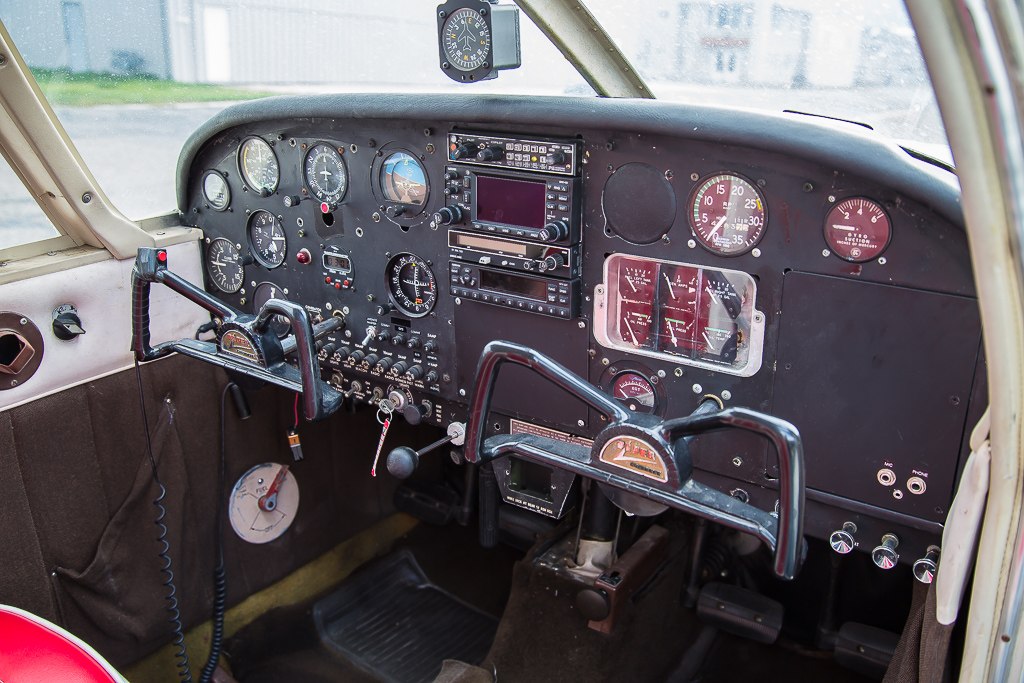 I spoke with Corey about my plans and of course he was excited. The purchase was completed and I called our local FSDO (Flight Standards District Office- FAA) to obtain a "ferry permit". This would allow a one-time flight from its current location to my facility for repairs and the completion of an annual inspection. It's the way aircraft that are technically not airworthy but still safe to fly are moved where work can be accomplished. Once a ferry permit is obtained an A&P mechanic is required to inspect the aircraft and determine it is safe for the intended flight. A logbook entry certifying this inspection is required before the flight can be completed.
With the purchase finished and a ferry permit in hand, Corey and I made our way to the Salt Lake Airport one Saturday morning to move the airplane. I inspected it, put some fuel in and climbed aboard.
As with most any other plane I have flown and especially ones I have owned the short flight home converted me to yet an additional love affair. The little engine purred and the plane flew straight and true. I landed, excited about the challenge to breathe new life into the tired airframe.
Starting the Restoration Work on This Piper Cherokee
We pushed 66R into the back of the hangar and immediately started drilling rivets and spreading paint remover over the wings. Ailerons, flaps, and wingtips came off to allow work on each individually. The cracked skins were removed and replaced with new aluminum. All the interior excluding the headliner was pulled out and sent over to my upholstery guy.
It has been one month now and the tedious, never-ending process of stripping the paint is over. The flight controls, flaps, and tips are already coated with beautiful white paint. The wings are ready for paint and then the red and black trim will be put on. New windows are on the way, the interior is in process and the radio gear is ready to be installed. The instrument panel has been cut out and I am currently making a pattern for the new improved panel. Each day this luckily little bird is looking better and better and it wont be long now until it is back doing what it does best, teaching people how to guide it safely through the sky.
Piper Aircraft Company introduced the Piper Cherokee series in 1962. This was the beginning of a new era at the Piper factory when this all metal airplane replaced it's tube and fabric predecessors. The new design and modern technology of the Cherokees streamlined manufacturing processes and resulted in an aircraft with 400 less parts than the previously produced Tripacer. Simple operation, low cost and easy maintenance became synonymous with the words Piper Cherokee. The original series was designed by John Thorpe (a well known experimental aircraft builder) and Fred Weick (Ercoupe roots) and became one of the most popular lines of entry-level aircraft. It evolved into several models to choose from. Some had more powerful engines, retractable gear, and larger cabins. The popular Archer and Arrow are still in production now.
I have spent a lot of time over the past month working on this newest member of my aircraft family and have found myself surprisingly attached to it. I suppose it's like anything else when you put effort into improving it, learning about it and taking care of it, you develop a bond. I am anxious to finish up this project and get back to working on the Birddog but I'm more excited to get this little girl back in the air where it belongs.
---
Rescuing an Indian Part 2: Finishing the Cherokee 140 Restoration Work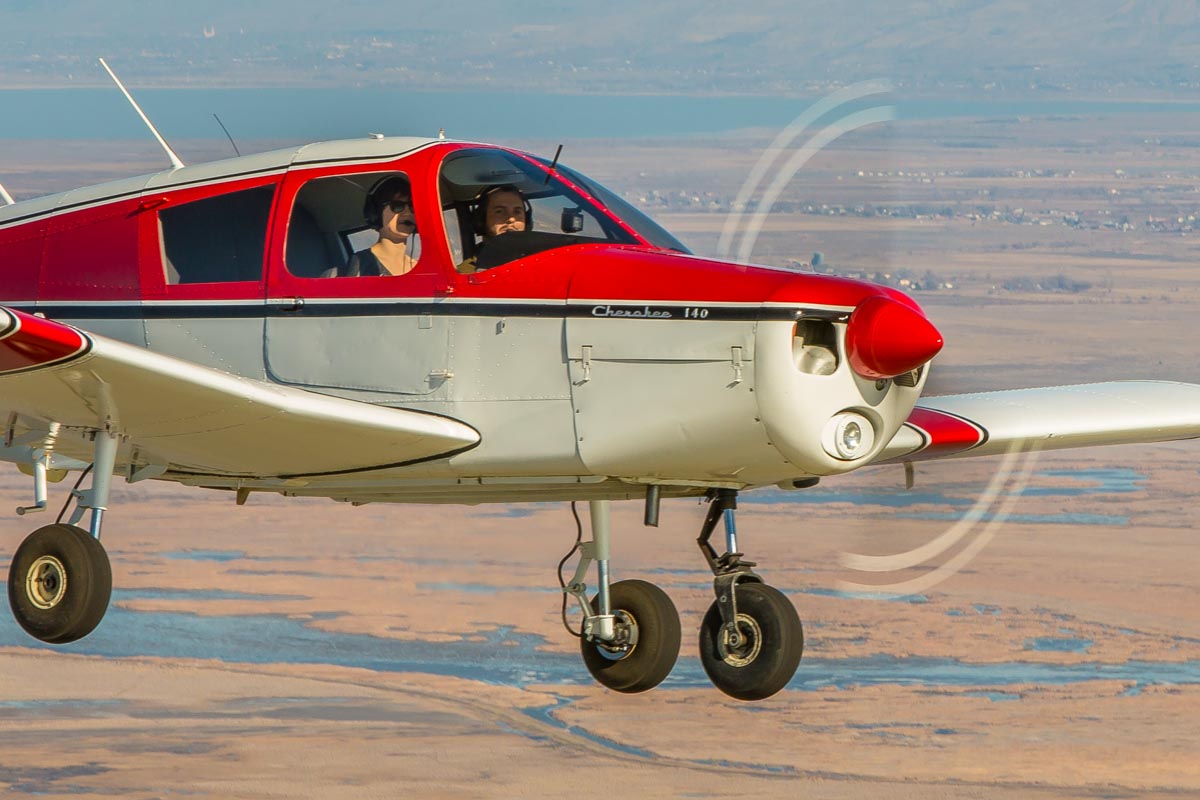 The last few months have been very busy in my shop. A lot of high-pressure jobs have absorbed more of my time than normal, stealing away that precious time I could be working on my own projects. Progress on the old Cherokee 140 I wrote about a few months ago slowed to a painful pace and became frustrating because my expectations to do the work quickly weren't working out. I had hoped I would be finished within a couple months. One thing I know about aircraft maintenance, but seem to forget [Click to read more…]
---
Also, this aircraft is now in a flying club!
Factory Standard
1964 PA-28-140 Cherokee 140 Specs
General Characteristics
Crew: one pilot
Capacity: three passengers
Length: 23.3 feet (7.16 m)
Wingspan: 30.0 feet (9.2 m)
Height: 7.3 feet (2.25 m)
Wing area: 160 sq ft (15.14 m²)
Airfoil: NACA 652-415
Empty weight: 1201 lb (544 kg)
Useful load: 949 lb (430 kg)
Loaded weight: 2150 lb (975 kg)
Max. takeoff weight: 2150 lb (975 kg)
Powerplant: 1 × Lycoming O-320-E2A Sensenich M74DM propeller, 150 hp (113 kW)
Propeller diameter: 74 inches (1.9 m)
Performance
Maximum speed: 123 knots (142 mph, 230 km/h)
Cruise speed: 108 knots (124 mph, 200 km/h)
Stall speed: 47 knots (54 mph, 87 km/h)
Range: 465 nm (535 mi, 867 km)
Service ceiling: 14,300 feet (4400 m)
Rate of climb: 660 ft/min (3.4 m/s)
Wing loading: 13.4 lb/sq ft (64.4 kg/m2)
Power/mass: 14.3 lb/hp (0.116 kW/kg)