In the latest Safety Briefing, we find out "a normal timeframe for rulemaking can be around 38 to 42 months for a significant or complicated rule."
The FAA has released the latest issue of their bi-monthly digital "Safety Briefing", and this month, the focus is on questions. More specifically, the November-December 2016 issue, titled "Dear FAA, Tell Me Why…" deals with the questions that the agency is most commonly asked by the public. So, let's take a look at some of the questions they address, and other topics up for discussion in the latest Safety Briefing.
A Quick Look at the Articles in the November-December 2016 FAA Safety Briefing
In What is the Federal Register, and Why Is It Important?, FAA Safety Briefing assistant editor Jennifer Caron discusses what the register is and how the register works, what information you can get from it. She also looks at why it's important for people to take part in the public commenting period when new rules and regulations are posted, and the effects the comments can have.
Then, in Out for Comments Why Does it Take So Long to Process a Rule?, after acknowledging the often lengthy process for rulemaking ("I'd be lying if I said it doesn't take a long time to process a rule…") Caron discusses the process. Interestingly, Caron does give a basic rulemaking timeline estimate ("…a normal timeframe for rulemaking, from the NPRM to the final rule, can be around 38 to 42 months for a significant or complicated rule. And non-significant rules can take up to 30 months.") but also provides more detail on both why it can take longer, and how the process can be sped up.
---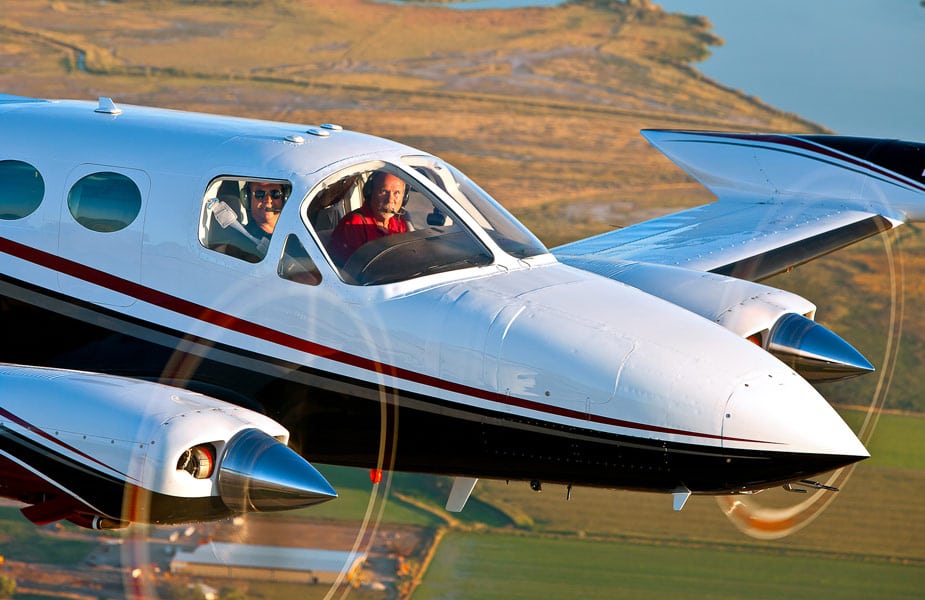 We all want to fly safely, yet, each year NTSB records reveal the same stubborn problems. While it's true some aircraft accidents are caused by mechanical failures, pilot incapacitation, and the ever-mysterious "unknown causes," when looking at AOPA ASI's "Joseph T. Nall Report" over the last decade, nearly three-quarters of accidents are "pilot-related." The report points out that most pilot-related accidents are the result of specific failures of flight-planning, decision making, or the typical hazards [Click here to read more…]
---
Pilot, flight instructor and the Safety Briefing's associate editor James Williams tackles the topic of logbooks in Who's In Charge? Logging Pilot in Command Time. The article focuses on answering common questions student and new pilots have about logging Pilot in Command (PIC) time, an area, as Williams puts it, "that can be confusing for some new pilots to master."
For Breaking Bad: What to Do When You See Someone Doing Something Wrong, Sabrina Woods, a human factors scientist with the FAA's Air Traffic Organization, and former aircraft maintenance officer, explores when it's appropriate to reach out to the FAA, and what it means "being a good steward of aviation."
Drones are the focus for Safety in Numbers Understanding the Parameters for Small UAS Operations, in which Tom Hoffman, the managing editor of FAA Safety Briefing and ATP-rated commercial pilot, explores questions like "Why am I limited to only 400 feet? Why is my maximum speed 100 mph? And why were small UAS specifically limited to less than 55 pounds?" Regarding that last one, it turns out there's actually a pretty simple explanation. According to the article, "Fifty-five pounds was the weight defined by Congress so that's what we used."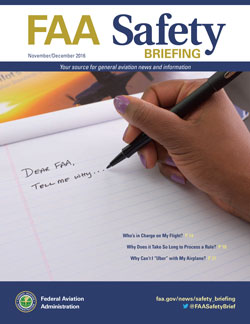 Finally, in Why Can't I Uber with My Airplane? The Legalities of Ridesharing in the Skies, Paul Cianciolo, a USAF veteran and public affairs officer with Civil Air Patrol, walks through the ins and outs of airplane ride-sharing, including what a commercial certificate means for how a pilot can make money.
And a Few Extras
The November-December 2016 FAA Safety Briefing also tackles the topic of airworthiness directives and why they're important, how to effectively navigate their website to find information, the difference between certificates, ratings, and endorsements, and what the FAA Extension Act of 2016 means for medical certification.
To read the safety briefing, click here, or click the cover image to the right.