Louis Bleriot: Paving the Way for Modern Aviation
French aviator, engineer, and inventor Louis Charles Joseph Bleriot was a true pioneer in the history of aviation. He was most well-known for making the first successful airplane flight across the English Channel, but Bleriot made several other important contributions to the world of aviation, including forming one of the most successful early airplane manufacturing companies.
Louis Bleriot's Early Years
Born in Cambrai, France on July 1, 1872, Louis Bleriot was the oldest of five children. A precocious child, he left home at the age on ten to attend a boarding school at Institut Notre Dame in Cambrai. At age fifteen, he moved to the Lycee at Amiens to live with his aunt. Bleriot spent one year at the College Sainte-Barbe in Paris and then passed a demanding entrance exam which allowed him to study for the next three years at the prestigious Ecole Centrale in Paris.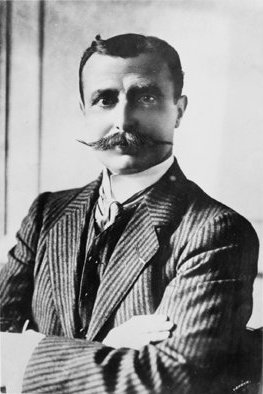 After serving a term of required military service, Louis Bleriot landed a job with Bagues, an electrical engineering company based in Paris. It was while working here that Bleriot developed what would become the first practical automobile headlamp. With this achievement in hand, he left his job at Bagues and opened his own business supplying headlamps to the two foremost auto manufacturers of the time, Renault, and Panhard-Levassor.
While on his lunch break one day in 1900, Louis Bleriot happened to see a lovely young woman dining with her parents. Struck by her beauty, he decided then and there that this was the woman he would marry, and bribed one of the waiters to tell him who she was. Things worked out, because the following year, Bleriot married Alice Vedene, the woman from the restaurant that had so smitten him.
Louis Bleriot and Experiments In Aviation
Louis Bleriot used the money that he made from his business success to fund his early aviation experiments. When he was 30, Bleriot taught himself to fly in an aircraft that was of his own design. Through much trial and error, Bleriot honed his skills as both pilot and designer. His first series of experiments using ornithopters were all unsuccessful. Bleriot then met Gabriel Voison in 1905 and was impressed by him when he photographed Voison's first trials using a floatplane glider. After witnessing the successful trials, Bleriot commissioned Voison to create what was known as the Bleriot II glider. While the Bleriot II flight actually crashed and nearly killed Voison, Bleriot's enthusiasm remained undeterred.
Bleriot later teamed up with Voison to establish a company called the Ateliers d'Aviation Edouard Surcouf, Bleriot et Voisin. The pair then developed two versions of aircraft powered by lightweight Antionetter engines, known as the Bleriot III and Bleriot IV. Neither of these aircraft were successful and Bleriot later dissolved his partnership with Voison and created his own business known as Recherches Aeronautiques Louis Bleriot. This company was a true milestone to the world of aviation because it produced the world's first powered monoplane that was successful.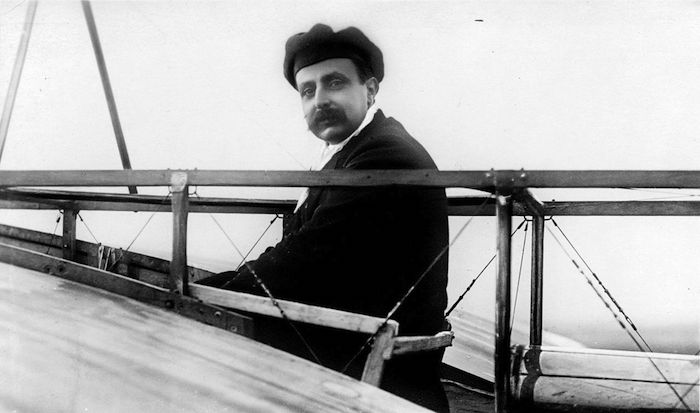 The Bleriot VII
Louis Bleriot had to design a few more plane models before achieving his great accomplishment. Recognized as the first monoplane flight in the world which was successful, the Bleriot VII made its first flight on November 16, 1907. The tail surfaces of this plane were arranged in a way that has become the conventional and modern layout. The Bleriot VII continued its success with Bleriot piloting two more flights of over 500 meters on December 6, which also included a U-turn. At the time, this was considered to be the biggest achievement among any of the French aviating pioneers.
The Daily Mail Inspires Success
The inspiration behind Louis Bleriot's famed flight across the English Channel came in the form of an offer put out by London's Daily Mail. The Daily Mail had originally offered 500 pounds sterling in October of 1908 for anyone who could make a flight before the conclusion of the year. After the year passed and no serious attempts had been made, the paper increased their prize to 1000 pounds sterling and extended the offer until the end the year 1909. Many people originally took this prize offering to be not much more than a publicity stunt, however, Bleriot had other ideas.
On July 25, 1909, Bleriot set out to pilot his 25-horsepowered engine monoplane known as the Bleriot XI. He piloted this plane across the waters of the English Channel from Calais, France to Dover, England and won the coveted prize of 1000 pounds sterling offered by the London Daily Mail. This was a 22 mile flight that took Bleriot a total of 36 minutes and 30 seconds to complete and made him famous for being the first person to fly an aircraft across the English Channel.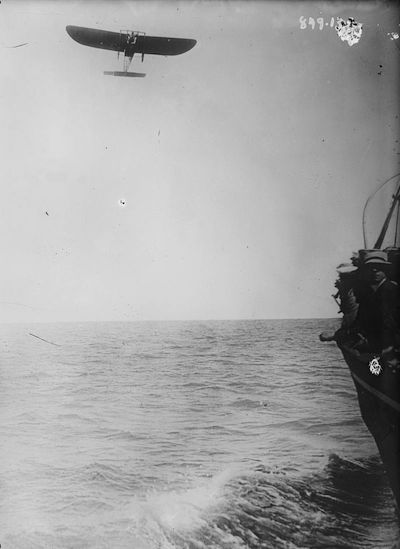 One very interesting fact is that Bleriot completed his famous flight without the use of a compass or instruments which our modern pilots have today. He was also flying with a badly injured foot that he had injured in a test flight which was causing him great pain. It also began to rain during the flight, causing turbulence and poor visibility, yet somehow, Bleriot continued on and stayed on course.
A small group of onlookers had gathered to watch Bleriot's arrival as he landed in a grassy field in Dover. The historic flight had a rough landing, resulting in damaging the plane's undercarriage and a broken propeller. However, Bleriot emerged from the flight unscathed, famous, and 1000 pounds sterling richer. This flight also earned him the titles of "the father of the modern monoplane" and "the pilot of the first epochal flight". After his impressive flight, Louis Bleriot was celebrated on both sides of the English Channel and also received a hero's welcome in Paris the following day.
Life After Crossing The English Channel
At the time of Bleriot's flight across the waters of the English Channel, he had already invested about 780.000 francs of his own money to fund his aviation experiments. Thanks to his legendary flight, his company, Reserches Aeronautiques Louis Bleriot, saw an immediate transformation in business as a result. This was when his investment in aviation started to pay off for him, as the company began receiving several orders for the Type XI aircraft, which sold for around 10,000 francs each.
Bleriot also continued to nurture his love for piloting by flying at the Grand Semaine d'Aviation which was held in Reims. While there, he was narrowly beaten by other pilots. However, Bleriot did manage to complete the speediest lap of the circuit, which established a new record for world speed for aircraft at the time. He continued to make other appearances and attended aviation meetings. Up until December of 2010, Bleriot had typically escaped several failed flight attempts by coming out uninjured, but as you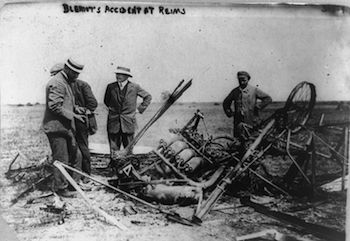 might guess, his good luck eventually ran out. While flying in gusty weather conditions in Istanbul, Bleriot's plane came to a crash landing on the roof of a house, leaving him with internal injuries, several broken ribs, and a three week stay in the hospital.
World War 1 And Its Impact On Bleriot
Between July of 1909 and the onset of World War 1 in August of 1914, over 800 aircraft were produced at the Bleriot factory, most of them being the famed Type XI monoplanes or variations of the design. His planes were purchased by many different flying clubs, even those from as far reaching as Australia. Bleriot machines were also used by the embryonic air forces of Russia, Austria, Britain, Italy, and France. Bleriot aircraft and the pilots who used them also heavily prevailed as the dominant forces in the great European competitions and air races that took place in 1910. As of July 1910, the Bleriot Type XI held world records in the areas of duration, distance, speed, and altitude.
While innovational and revolutionary, the monoplanes were not without controversy. Due to safety concerns resulting from accidents involving four Bleriot planes, the French Army placed a brief ban on using monoplanes in 1912. The concern was based on the fact that the monoplanes had relatively weak wings which could collapse and cause crashing. Louis Bleriot took it upon himself to identify the problem with the aircraft and to come up with a solution. The ban on the monoplanes was lifted after the problem was resolved by strengthening the landing wires of the planes.
In 1914, Bleriot took over the makers of the famous SPAD biplane which were used extensively by the French air forces, and later by the American air forces during Word War 1. This cemented him as a true leader in the aviation industry and paved the way for those who followed. During the postwar years, Bleriot continued to be involved in the commercial production of aircraft and continued to make contributions to the field of aviation until the time of his death.
Louis Bleriot Versus The Wright Brothers
Many people associate the Wright Brothers with the beginning of modern flight. This led to a five year legal battle between Bleriot and five other aircraft builders in Europe and the Wright Brothers. The legal issue involved the patents of the latter's wing warping, however, both the French and German courts dismissed the Wright Brother's claim.
Louis Bleriot Remains Involved In The Aviation World
In 1927, although Bleriot had long since retired from flying himself, he was there to welcome aviator Charles Lindbergh as he completed his transatlantic flight and made his landing at Le Bourget field. There was a famous photo that was taken in Paris of the two famous men together, both of whom had made history by flying across well known bodies of water.
Interestingly, Bleriot visited the Newark Airport in New Jersey in 1934 and had made the prediction that by the year 1938, there would be commercial overseas flights.
The Legacy Of Louis Bleriot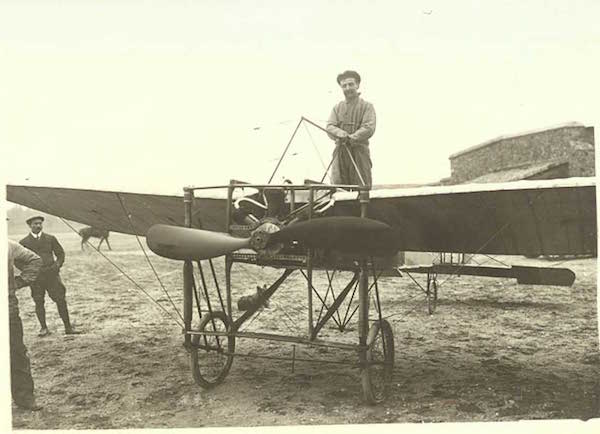 Bleriot was involved in the aviation business right up until he died of a heart attack in Paris on August 1, 1936. He was given a funeral that included full military honors and was buried in Versailles at the Cimetiere des Gonards. In 1936, the Louis Bleriot medal was established in his honor. This medal is given by the Federation Aeronautique Internationale and is sometimes awarded up to three times in one calendar year. To be awarded this medal, recipients must be record setters in the areas of speed, distance, and altitude categories in a light aircraft. The Louis Bleriot medal continues to be awarded to this day to recognize those individuals who have made a contribution in the areas of trendsetting and record breaking in aviation, much like Bleriot himself did.
To commemorate the one hundredth anniversary of Louis Bleriot's famous flight, a Frenchman named Edmond Salis decided to re-enact Bleriot's flight. Salis departed from Bleriot Beach in a plane that was and identical replica of the monoplane Bleriot flew one hundred years before. Salis then made a successful landing in Kent at the Duke of York's Royal Military School.
References To Louis Bleriot In Popular Culture
For some, Louis Bleriot's name may not be well known, but for many others, it has its place in pop culture. In 2002, a train company in England came out with a new type of train called the British Rail Class 221 and named one of its trains Louis Bleriot. Rivendell Bicycle Works created a bike model they called the Bleriot 650B in 2006, complete with Bleriot's picture featured on the seat. Imaging scientists nicknamed a moonlet in one of Saturn's rings and called it "Bleriot". Bleriot even has his own KLM Boeing plane named after him.
Conclusion
Louis Bleriot played an important role in developing an aircraft that could go faster, farther, and higher than those before it. His plane designs revolutionized the aviation field during his lifetime and his company produced aircraft that were known for their quality and performance. Bleriot made advances and developments in the areas of plane speed, distance, and altitude, all which paved the way for future advances leading up to the development of our modern planes. Louis Bleriot is truly a man to be remembered for the many contributions he made to the field of aviation. While the names of other aviators such as Charles Lindbergh or Amelia Earhart may be more recognizable, nothing takes away from the fact that Bleriot was the first person to successfully fly a powered monoplane and cross the English Channel.