Edwin Albert Link Decided Flight Training Was Too Expensive and Changed Aviation Forever with the Link Trainer
Edwin Albert Link was born on July 26, 1904, in Huntington, Indiana. His family soon moved to Binghamton, New York, where his father built and repaired organs. Ed inherited his father's eye for detail, and he loved to tinker from a young age, eventually aiding his father in his organ business, Link Piano and Organ Company, when he was old enough. A biography by Harold Edgerton recalls the many late nights Ed would stay up, working tirelessly on the delicate elements of both pianos and organs.
Edwin Albert Link's First Foray Into Flight
In 1920, Ed took his first flight lesson for $50 and walked away feeling like he wasted his money. He paid close to $640 (when you factor in inflation), and wasn't even able to touch the controls! Due to financial constraints, Ed's dream of flight was put on hold until the mid-1920s when he made friends with a group of barnstormers who taught him to fly.
The First Delivered Cessna Aircraft and the First Flight Simulator
In 1927, Ed bought the first delivered Cessna aircraft, the Cessna "A" Model; a 4 seat, 110 horsepower, cantilever wing monoplane. With it, he joined up with the barnstormers, which included some flying aces from the Lafayette Escadrille, and traveled the country performing at barnstorming events, doing charter flights, and eventually becoming a flight instructor.
---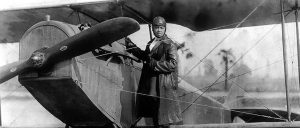 Bessie Coleman: Early Aviation's Barnstorming Queen
No better loved Queen in history had come from more humble beginnings than Queen Bess, the woman who changed the landscape of aviation, and race relations, in the United States, paving the path toward equality by encouraging women and minorities to pursue their dreams. [Read More]
---
During this period, working hard to make money, Ed also developed an innovative early advertising plane with parts from his father's piano and organ factory. Using a punched roll and pneumatic system from a player piano, Ed was able to control a series of sequential lights on the lower surfaces of the wing that would spell out brief messages for viewers below. And in order to draw more attention, and maximize the effectiveness of the advertising, he also added some organ pipes, small but loud, that were also controlled by the roll from the Player piano.
Even after putting in many hours as a flight instructor, Ed was still convinced that learning to fly was prohibitively expensive, and set out to change the aviation industry forever. Using parts from pianos and organs, and working in his father's basement, Ed built a fuselage-shaped hull with a complete cockpit, and controls that produced the motions and sensations of flying.  His knowledge of air compression and movement to produce sounds in musical instruments allowed him to expertly replicate the pneumatic systems of an actual airplane, and he called his ground-breaking invention "The Pilot-Maker." After teaching his brother to fly using this first model in 1929, Ed started his own company called Link Aeronautical Corporation to produce the Link Trainer flight simulators – a safer, more inexpensive way to learn to fly using instruments.
The Link Trainer Picks Up Speed, and Edwin Albert Link Picks Up a Wife
Around this time, as the Link Aeronautical Corporation started gaining recognition, a young reporter named Marion Clayton moved to Binghamton, NY to work as a reporter for the local newspaper. Soon after, she interviewed Ed for an article, and in 1931 she "married her best story." She and Ed became an inseparable power couple, and she was his confidant, advisor, and business partner until his death.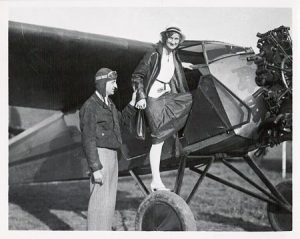 Unfortunately, the Pilot-Maker, renamed the Link Trainer, wasn't taken seriously by flight instructors or the military, and was purchased mainly by amusement parks who used it as an attraction. After trying to sell the Link Trainer to other flight schools without success, Ed opened his own school. The eye-catching advertisements, claiming you could "Learn to fly for $85!" drew students in, making the first class a success.
Around this time, the Army Air Corps was given the task of delivering airmail and taught their pilots to fly and navigate by having them watch the ground. Naturally, this was not very successful, and the Air Corps lost twelve pilots over a 78-day period due to the pilots being unfamiliar with instrument flying conditions. After this series of tragic losses, the Air Corps started looking into a variety of potential solutions, including the Link Trainer. In 1934, Ed was able to demonstrate the potential of his new trainer when he flew to a meeting with the Air Corps in fog conditions that the Air Corps' evaluation team said were unflyable. The military ordered six Link Trainers, at a cost of $3,5o0 each.
Advancing Military Aviation Training
Gaining the business of the Air Corps kickstarted his business, and Ed expanded Link Aeronautical Corporation into Link Aviation, Incorporated, which began manufacturing a larger variety of flight training equipment. No longer just building Link General Aviation Trainers, the military requested updated products they used to teach wartime instrument flying, aerial gunnery, bombing, navigation, automatic pilot, and radar operation to a half-million airmen during WWII.
During the war years, the ANT-18 Basic Instrument Trainer became standard equipment at flight training schools in the US and other allied countries. The trainer was known to many pilots as the 'Blue Box' due to it often being painted blue, and Ed produced over 10,000 Blue Boxes during wartime, roughly one every 45 minutes. After the war, Link Aviation built the first jet bomber simulator.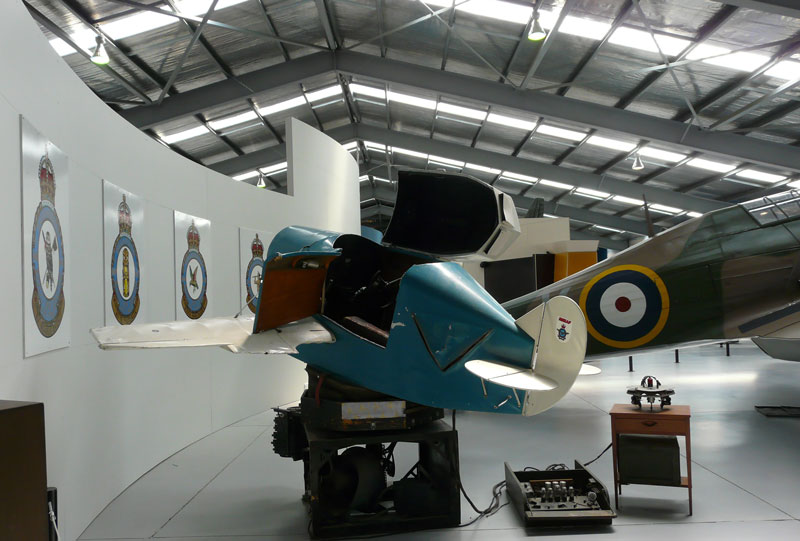 In 1945, Ed was awarded the Howard N. Potts Medal, a science and engineering award, for developing training devices that modernized and made safe flight training. As their company continued to flourish, Ed and Marion created The Link Foundation, which provides grants and fellowships for innovators in aeronautics, simulation, and training, as well as ocean engineering. Later he merged Link Aviation, Inc. with General Precision Equipment Corporation (GPE), and became the company president in 1958, where he worked until he retired and dedicated himself to studying the ocean.  The sea always held Ed's interest, and in the early 1960's, he took his family to the Caribbean and took up diving, and made massive contributions to undersea exploration, by designing and manufacturing mini-subs and other pressurized diving equipment.
While Ed was fixated on the sea, his technology was training the astronauts that would become the first human beings to step foot on the moon. In 1976, he was inducted into the National Aviation Hall of Fame, and in 1980, Ed was awarded the Lindbergh Award, given to those who make pioneering contributions to aviation, exploration, conservation, sciences, and the humanities, while embodying Charles Lindbergh's dream of maintaining the delicate balance between human technology and nature.
Edwin Albert Link: Innovator and Explorer of the Sea, Space, and Sky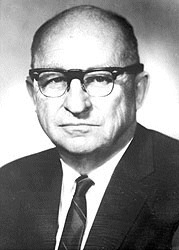 On September 7th, 1981, Edwin Albert Link died in his sleep. He was survived by his son William, and his wife, Marion, who wrote about and shared their ideas and experiences in diving until her death in 1995. The technological advancements made in Ed's lifetime achieved more than he could ever dream, and most of his patented inventions (Ed hold more than 27 patents for aeronautics, navigation and oceanographic equipment) are still improving the lives of aviators and oceanographers around the globe. Edwin Albert Link, by proxy, helped the world learn more about its greatest, most magnificent mysteries; outer space, the sea, and the sky.
Featured Image: US military pilot in a Link Trainer, courtesy of the USAF