Meet Jessica Bauman
My dad is responsible for everything. I wasn't born into an aviation household, I got my love of all things mechanical in a different way. Much to my mom's dismay my dad started me, and later my sister, working on cars at a very young age. Some of my earliest memories are being carted along to a car show, junkyard, or just sitting in the garage watching my dad work on his Studebaker. I was building engines long before I flew anything. So when my sister discovered a local air museum that allowed volunteers to help with warbirds, she, dad and I jumped at the chance to mess around with something different.
It all started out innocent enough. We got involved in the restoration of the museum's Mk.14 Spitfire. Under the watchful eye of A&Ps and IAs, we spent a summer replacing the coolant lines for the Griffon. It was wonderful to show up on a Saturday, wrench on an amazing piece of machinery, get dinner with the crew, and repeat it all the following weekend. A summer turned into a year, then two, finally finishing the restoration. Listening to the 2,050hp Griffon run for the first time was awe-inspiring and slightly deafening. It was a privilege to work around these machines and I didn't think it would go any further until that fateful day when I was offered a ride in the museum's 1938 PT-19. I still can't decide if it was the best or worst decision of my life to climb into that cockpit, but I knew the second it took off I would never again be content to just watch them from the ground.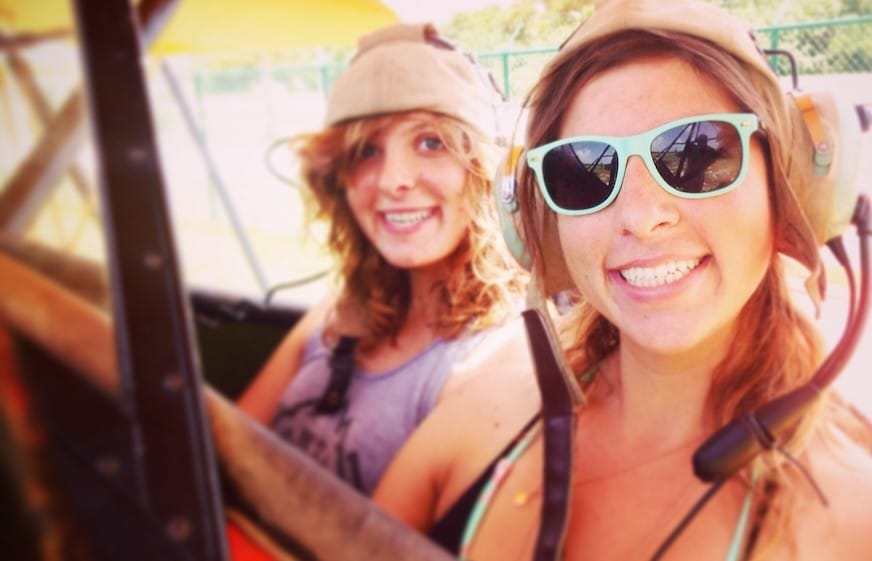 Soon after my sister and my dad both caught the bug, and we all decided it was high time we learned to fly. We'd all been volunteering at the museum for over two years now, and one of the local CFIs, Alan, offered to teach us if we could find an airplane. Dad retreated to the computer and spent months researching and debating what airplane would work for us. The requirements were simple; we wanted a comparatively inexpensive taildragger that was classy enough to look at. He settled on a red and white Stinson 108-1 located in Arizona. Off we went, driving to and from Arizona in one day. It was love at first sight, and after negotiations and a clean pre-buy we brought home a gorgeous little piece of 1947.
So began our flight training. We had setbacks, from losing the first instructor to health reasons, another to the airlines, issues with the not-quite-as-nice-as-it-seemed Stinson, and general avionics-based bad luck. Finally after months of work the plane was solid, all we needed was a instructor. It turns out finding a tailwheel instructor with Stinson time was difficult. While sitting around the hangar one day wondering what to do, a friend from the B-25 crew came over and dropped a napkin with a hastily scrawled name and number on it in my lap. Confused, I asked him what the number was. He replied "call it" and walked away laughing. Even more perplexed, I dialed the number and asked the gruff man at the other end if he was Frank. He replied "you must be that Spitfire girl, I'll be over in a bit." Fifteen minutes later a short, rather rotund Englishman taxied  up in a Christen Eagle. He informed me he was our new flight instructor and would I like to go fly the Eagle. Nothing like flying with an old cranky racist sexist Englishman with no fear of death to make it a memorable experience.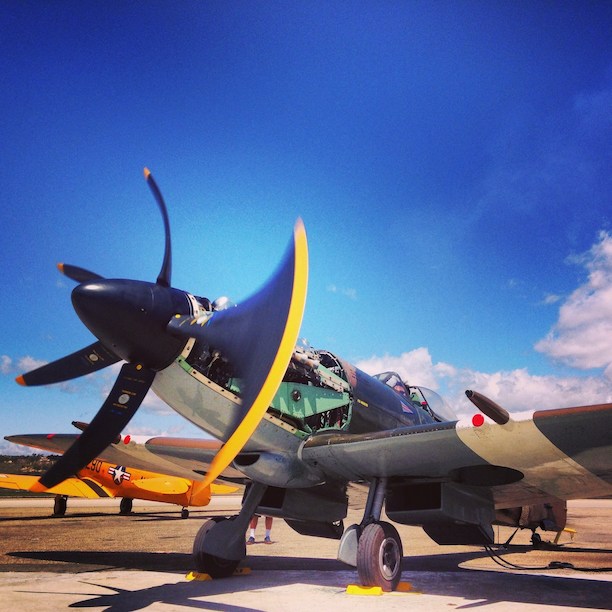 After so many setbacks it was wonderful to have a reliable, knowledgeable instructor. Flying twice or three times a week let me improve by leaps and bounds. Soon it was time for my solo. That first takeoff without Frank next to me was the most amazing feeling, complete freedom. Even more incredible …my landing was decent. I was so focused I didn't even notice my friends had printed out giant numbers and were standing by the runway, scoring my landings. After stepping triumphantly out of the Stinson Frank told me I fly ok for a girl, his highest praise.
Flight training progressed quickly until after my solo. I was having too much fun practicing landings and playing around to actually focus on things like my cross countries. Frank yelled enough to get me back on track, and I breezed through everything. Suddenly it was time for my check ride. Like any good student pilot I was terrified. The oral and check ride were all a blur of nerves and nausea for me, but at the end the examiner told me he was proud to give me my certificate, and that my stick and rudder skills were excellent. I attribute that not to skill or talent, but to having the fortune to learn in a taildragger. I was elated. Especially because I'd done something a little rash and bought myself an airplane a month before I took my check ride. In fact I was a bit the laughingstock because I'd bought an airplane I couldn't solo. But now I had my certificate and I could finally fly MY airplane. The airplane is a 1986 Steen Skybolt, with possibly the most late 70's era paint job ever seen on an airplane.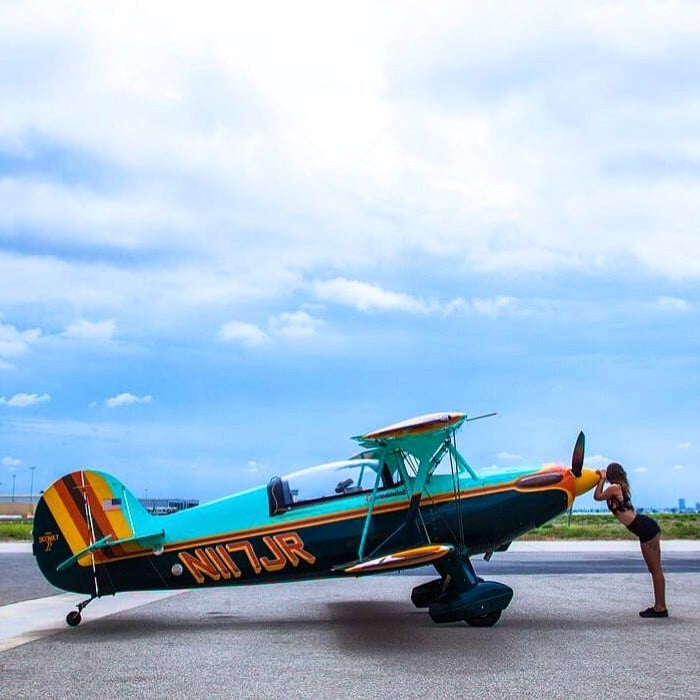 Stepping up from the Stinson to the Skybolt was relatively easy. Between the Stinson, the Eagle, and the other taildraggers I was lucky enough to fly I was very comfortable flying a low visibility biplane. Unfortunately the Skybolt is not without issues and I'd spent the first six months of airplane ownership tearing my hair out. I've since learned this is fairly normal. As a very good friend of mine says "f**kingairplane is all one word." Now the Skybolt is cooperating, and I'm hoping to compete in it next summer.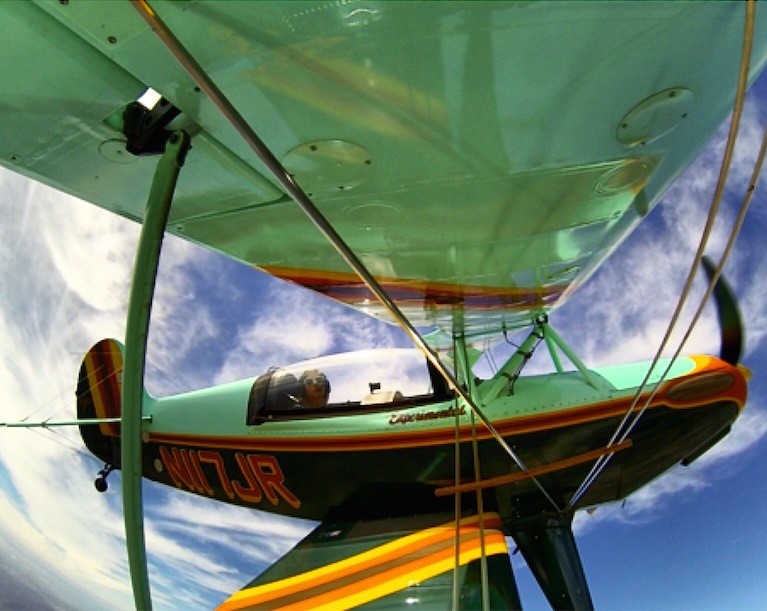 Through all of this my sister and my dad have always been there every step of the way. My sister passed her check ride the same weekend I passed mine and we're working on getting her checked out in the Skybolt. Every weekend we can the three of us drive out to the museum, the So. Cal wing of the CAF, to do our part keeping the collection of warbirds airworthy. Aviation has not been without heartache for me, early this year we lost two of our crew member to an accident. One of those men, Alan, was the first CFI who taught me the foundations of flying, a fantastic travel buddy, and who was by my side when I was searching for my airplane. Recently we lost our 94 year old crew chief and he will be sorely missed around the hangar. But more than anything it has driven me to continue my flying and work harder to accomplish my goals.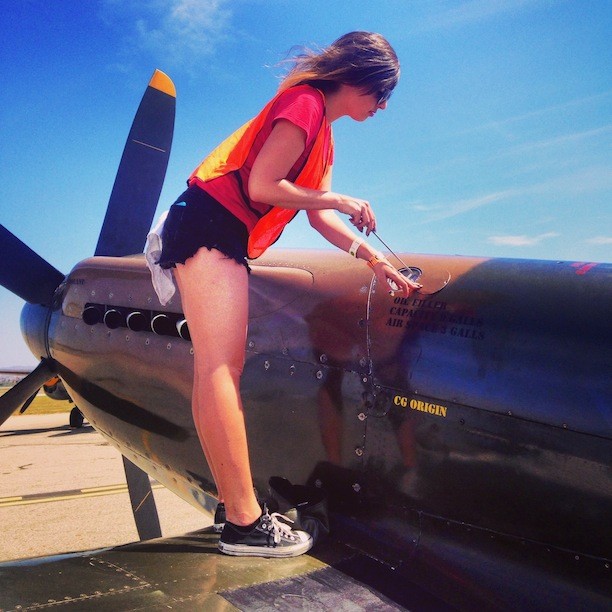 I fly as much as I can, and in as many different airplanes as I can. My goal, pipe dream, whatever you want to call it is to fly the planes I've given my blood, sweat, and Saturdays too. Flying a low visibility taildragger prepares me better than anything else for the PT-19, then the T-6, and eventually the Spitfire.
My aviation career so far has introduced me to incredible people and taken me halfway around the world serval times I've been to airshows all over the US, and from England to Australia. I've crashed on people's sofas I had met at airshows years previously, and traded rides with friends from far away. I can't imagine what my life would be without this community and hopefully someday soon you'll hear my name over the loudspeaker at our local airshow and maybe elsewhere.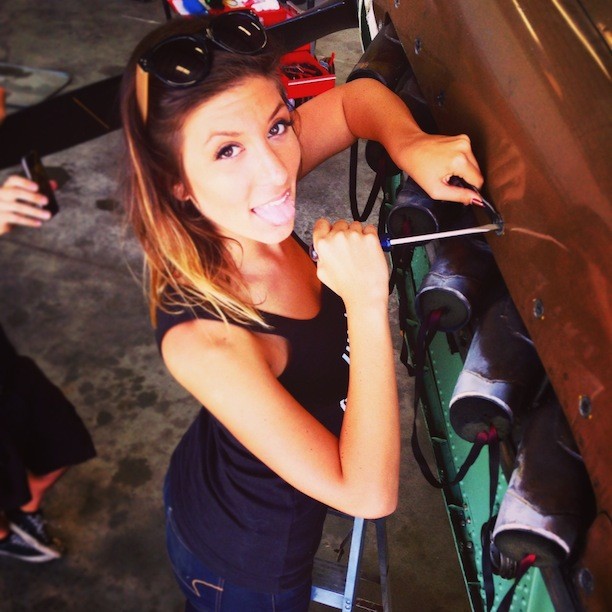 [optin-monster-shortcode id="wwcyfbdjs9-post"]