FAA Hiring Scandal: Is the FAA Getting Rid of Qualified Candidates?
[For our follow-up to this article, click here.]
Over 3,000 college graduates were told by the Federal Aviation Administration (FAA) in December 2013 that their earned degrees or degrees they were working towards were now useless. These students and recent graduates were no longer going to be given a leg up over applicants that had zero aviation experience while they held degrees in specific field they wanted to enter – air traffic control.
"Some of us specifically wanted to control air traffic and invested a lot of time and money to do so," said Brian Pember Jr. on a Facebook forum. "The investment was made because the FAA had a path to getting hired and that was the CTI program."
Established between the FAA and specific colleges and universities in early 1990's, the Air Traffic Collegiate Training Initiative (AT-CTI or CTI) was developed as a way to provide a larger pool of qualified air traffic control candidates and establish a pathway for graduating high school students to work towards becoming an air traffic controller. This system was designed in order to cope with the known increased need of the air traffic system: the need for 10,000 new controllers over the next 10 years. (Note that the FAA only employs 15,000 controllers at a given time).

Fox Business recently released an hour-long news segment – "Trouble in the Skies" – on the recent hiring changes after a 6-month investigation into a possible FAA hiring scandal. Featured were five of the nearly 3,000 CTI students in the United States today. These five students all received well-qualified scores on the AT-SAT – the test that was once used to gauge if CTI students were qualified to begin training after graduation – yet none of them received referral list status or "the green checkmark" on the 2014 Air Traffic Control Specialist (ATCS) bid. Only one received the green check mark in the 2015 bid. Two have since aged out of the system, as air traffic controllers must begin training before their 31st birthday (due to mandatory retirement at 56).
For those interested, you can view the hour long Fox Business Special on the possible FAA hiring scandal here:
"[CTI] was the established way to get into Air Traffic Control," said Ben Avni in the Fox Business report. "You go to FAA.gov and it said attend a CTI school, so I did," he said.
CTI was the established way for over 20 years to become an air traffic controller; but now off the street "OTS" applicants are given the exact same opportunity as those who invested time and money in a degree in air traffic control.
"I understand there are no guarantees in life, but I can guarantee if I had a high GPA and an elite MCAT score I would get into medical school, I wouldn't be told that I can go be a massage therapist or a nutritionist," said Pember after he was encouraged to try other aspects of aviation when he was turned down to be a controller. "[Then to] see people who scored average or below average or didn't even go to school get accepted instead of me…"
"It's like constantly being slapped in the face and being told that you're not good enough," said CTI graduate Miranda Cash on Facebook.
Why did the FAA change the hiring process midway through the game? According to Fox, the FAA produced a barrier analysis in April 2013 that concluded that the CTI program was not giving the FAA a pool of diverse, qualified candidates.
Doug Williams, Program director of the Aviation Program at the Community College of Baltimore County, Maryland, said that in late December 2013, he received a letter from the FAA explaining the changes that were going to be made, effective immediately, due to the lack of qualified candidates from the CTI program. Williams was perplexed, according to him "[we] were showing significant progress in helping toward the diversity in the FAA air traffic controller ranks."
In the Fox Business report, attorney and former Air Traffic Controller Michael Pearson regarded this change hiring process as "social engineering at the risk of compromising safety."
CTI graduates see it as the rug being pulled out from under them.
Instead of considering an applicant's educational background, aviation experience or flight certificates, the FAA is now using a test of "Biographical Data" – essentially a personality test – to determine which applicants would be the most successful on the job. Known as the "Bio-Q," many CTI students are perplexed by the questions. Fox Business featured question 21 on their segment:
Question 21: The number of different high school sports I participated in was:
A. 4 or more
B. 3
C. 2
D. 1
E. Didn't play sports
Many are scratching their heads as to why the number of sports played 5 or 10 years ago will determine if they will be a successful air traffic controller. "How does this relate to the job?" said Matthew Douglas, CTI graduate, in the Fox report.
The FAA said in a statement that the Biographical assessment was designed "…to increase objectivity and select those applicants with the highest probability of success in the FAA's rigorous air traffic controller training process."
Yet a 2014 unpublished report from the FAA, obtained by Fox Business, admits that veteran and CTI applicants have higher success rates on the job. The report says:
"Overall, larger proportions of [veterans] and CTI hires achieved CPC [certified professional controller] status than did general public hires. Based on those differences, a simple model suggested than preferring [veteran] and CTI hires over general public hires could produce more net CPCs than a policy of equal (or no) preference for recruitment sources."
Additionally, Fox Business uncovered an FAA document indicating that the 2014 Bio-Q was actually invalid citing an FAA document: "We conclude that the evidence for using these biodata items for controller selection is weak."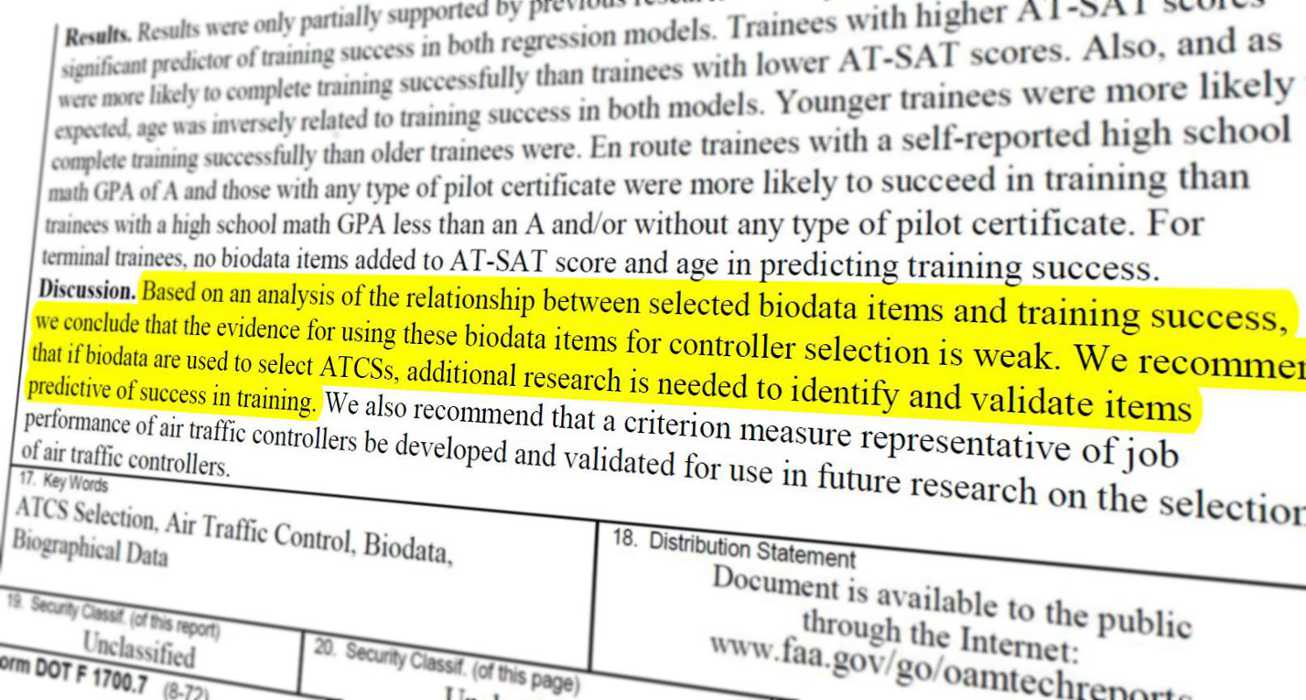 Additionally, no validation studies have been released by the FAA verifying that those that scored higher on the test are actually more qualified for the position than those that were deemed unqualified.
"It's my belief that the FAA has engaged in a pattern of discrimination and now they're trying to cover it up," said Pearson.
In addition to the validity of these tests, Fox Business also uncovered another possible part of the FAA hiring scandal: cheating. In an audio recording obtained by Fox Business, an FAA employee who is also a National Black Coalition of Federal Aviation Employees (NBCFAE) member is heard saying, "There is some valuable pieces of information that I have taken a screen shot of and I am going to send that to you via email." This audio message was sent to associate members of NBCFAE in a group text message.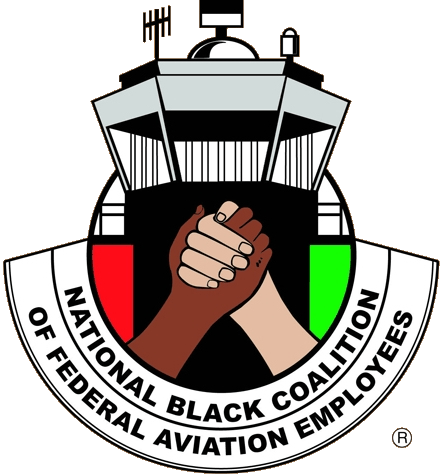 The recording goes on to say, "Keep in mind we are trying to maximize your opportunities…I am going to send it out to each of you and as you progress through the stages refer to those images so you will know which icons you should select…[I'm] sure that it is exactly how you need to answer each question in order to get through the first phase."
The audio recording makes it seem like the NBCFAE is trying to help their associate members pass the first round of hiring by giving them detailed instructions on how to answer questions on the Bio-Q and tips on formatting and phrasing their resumes to get through Human Resources. The individual that sent the audio message, NBCFAE Board Member Sheldon Snow, refused to comment when Fox Business questioned if these allegations were true.
President of NBCFAE Paquita Bradley declined Fox Business' requests for comment on if NBCFAE members helped applicants cheat. The FAA also declined requests for interview but said in a written statement to Fox that no applicants made allegations of cheating directly to the FAA.
"This whole situation has left such a bad taste in my mouth I'm not sure if I'd ever want to work for an organization that took everything I sacrificed and worked hard for 3 years for and flushed it down the toilet…" said CTI graduate Dalya Blech-Addi on Facebook. "The FAA decided to throw us all under a [bus] for their political agenda," she added.
Those that were turned down in the 2015 bid shared their stories on a Facebook forum: people with bachelor degrees in air traffic control, certified flight instructors, 4.0 GPA's, certified dispatchers, veterans, radio operators, those with internships at air traffic control centers and towers, 911 operators, remote pilot operators at the air traffic academy, people with masters degrees in aviation safety, and those with childhood dreams of becoming the voice in the sky bringing the airplanes home.
"I think they had a goal and they went about it the wrong way," said Moranda Reilly, CTI graduate, during Fox's report. She has since "timed out" after this year's bid, as she will be too old to apply when the bid comes out next year. "I will never be an air traffic controller," she solemnly said.
"There's no information for us on how we can improve or what we can focus on to make ourselves better candidates for the FAA," said Ryan Beckerdite, CTI graduate featured in the FOX Business segment.
Congressman Randy Hultgren (R-Ill) was outraged when constitutes in his district told him about the possible FAA hiring scandal and the new hiring standards. In 2014, he and co-sponsor Rep. Dan Lipinski (D-Ill) introduced the Safe Towers Act in the House. The bill tried to reestablish the previous hiring standards for air traffic controllers but was unsuccessful.
In 2015, Rep. Hultgren came back to the House and introduced the Air Traffic Controllers Hiring Act of 2015 – this time with more backing from cosponsors. According to a press release from Rep. Hultgren's office, the goal of this Bill was "to reverse the effects of the Federal Aviation Authority's (FAA) interim hiring procedures which have passed over the most qualified air traffic controller candidates and raised concerns of safety and transparency."
The Bill would also restore preferred status for CTI graduates and qualified veterans, eliminate the use of the Bio-Q, require public disclosure of the assessment's validation and criteria used before implementation, and would allow candidates who will have aged out from the interim hiring process, or were deemed unqualified by the Bio-Q, the chance to reapply.
Rep. Hultgren cites the need to reverse this process because of the passion of the CTI students. These students invested in their education – not only financially but also their time and energy -because air traffic control was something that they wanted to do.
In order for this Bill to gain any momentum, the aviation subcommittee must first hear it. The subcommittee will only hear this Bill if enough voters contact Congressman Frank LoBiondo, Aviation Subcommittee Chairman, and request a public hearing on this issue. Congressman LoBiondo can be reached at (202) 225-6572. Then contact your representatives and ask them to support H.R. 1964: Air Traffic Control Hiring Act of 2015.
Retired Air Traffic Controller Karen Pontius thanked Rep. Hultgren on Facebook, fully appreciating the work that he is doing. "Thank you for publicizing this issue, sir!" she said. "I'm a retired controller and this new hiring method is NOT working. The FAA left thousands of CTI graduates hanging. Should be illegal – the FAA entered into agreements with these schools – now what?"
For CTI students left out in the dust, this Bill ensures that there's still hope. Reilly created a Facebook page "CTI School Connection – Help us save C.T.I. Schools" shortly after the hiring changes occurred in order to connect all CTI schools and graduates to disseminate information. "I have communicated with so many of these graduates across the U.S. and heard so many of their stories of people that have given up so much for their life's dream," said Reilly. "[They] have perused this with a vengeance because it's what they've wanted for so long."
"I'm still fighting this for those people that come behind me so they get a fair shot," said Avni.
"There are 3,000 of us willing to do the work," said Douglas. "So if anyone wants to reach out to us, please do. We're ready, we're passionate, and we want to work."
Fox Business has released two follow-up stories to their piece on the apparent FAA hiring scandal.  In the first, they reveal the National Air Traffic Controllers Association (NATCA) has called for an investigation into the FAA's hiring practices.  And in the second, Congress has stepped forward, and requested the FAA account for their actions:
"In light of recent reports challenging the fairness and effectiveness of the new hiring process, we ask that you provide any and all information or reports that substantiated the FAA's newest hiring process.  Furthermore the report of possible cheating in the latest hiring process facilitated by the actions of an FAA employee, is as disturbing as it is unacceptable.  We request that the FAA fully investigate these claims of wrongdoing by the FAA employee, including the extent to which others were aware of wrongdoing and provide the corrective actions the FAA plans to take in response."
Congress is requesting a response no later than June 26th, 2015.
NOTE: A little over a week ago, reader Roy Evans contacted us and made us aware of the Fox Business report and the potential FAA hiring scandal.  This article is a result of our looking into this situation.  However, as we looked into the details, we started to have some questions of our own.  The FAA appears to have had these new practices in place since 2013.  So, having already been effect for over a year, has it had any effect on the ATC safety record?  Are airline passengers at risk during their daily flights? Furthermore, it appears that both NATCA and the CTI program had been aware of the FAA making off the street hires over qualified candidates before, and have been discussing it as far back as April 2007.  So is this a new problem, or one that keeps coming up, the certain parties are now just becoming aware of?  And is the Bio-Q test completely irrelevant, or does it have some relevance to the hiring process we're not seeing?
There appears to be a lot more to this possible FAA hiring scandal than we first thought.  So we are preparing a follow-up piece in which we will look at these questions, and examine the details further, in an attempt to provide new and useful information to our readers, and the public, on this situation.
(Featured Image provided by NATS Press Office, CC2)