BROKEN – Losing the Opportunity to Fly
Losing the opportunity to fly:  On the 15th of December, I fell from a work stand in my hangar and broke my femur just below the hip joint on my right side. The ambulance carted me off to the hospital and a skilled doctor bolted me back together. He told me I would make a full recovery but that I was going to have to be very careful throughout the healing process to insure it. I would not be able to put weight on the leg until the healing was complete. This meant 12 weeks on crutches, a lot of discomfort, pain, and stiffness not to mention the mental frustration associated from my new physical limitations. And then there was the most unpleasant side effect of pain in my shoulders from the use of crutches.
My life has been absorbed with medications, discomfort, sleepless nights, doctor visits and crutches. All while trying to work as best as I could to keep some dollars coming in.
This has been the longest period of time I have gone without flying since I became a pilot. At first I wasn't very affected by not flying. My attentions were focused on more important things like figuring out how to put my shoes on again and dealing with the pain and discomfort of a sore leg and sore shoulders. But as soon as I began to feel human again I found myself longing to be back in the air. With a rigid wieght restriction on my healing leg I didn't even consider flying, feeling like I didn't want to risk damaging my leg. I also felt that I wouldn't be safe flying an airplane with limited strength and control on one of my legs.
After 10 long weeks I had the green light to begin putting some weight on my leg again. I knew the muscles were gone but after a short time I felt good and had no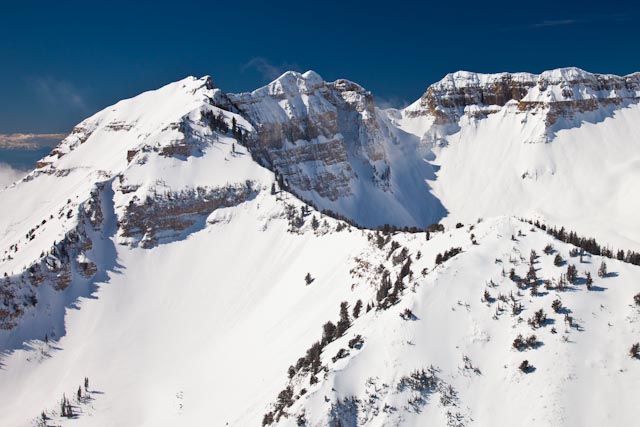 doubt I would be safe in the airplane. I didn't need any more permission than that get back in the air.
With some effort I pushed the cub out, put some gas in it and climbed in. For an hour I had no reason to think about my hip because my thoughts were absorbed in the fulfillment of flight. My sabbatical was over.
I fly for a company doing aerial mapping work. It's a nice deal, a couple times a week, always in good weather and generally short flights. Yesterday was my first job since the accident and it couldn't have been a more enjoyable flight. A small series of photos over the Fremont River near Hanksville, Utah was the requirement.
Just under an hour flight each way the route took us down the Wasatch Range past incredible rugged mountains with lots of fresh snow from last weeks storms. We noticed ski tracks zig zagging down the steep mountains. I don't know how these guys got to the top of the mountain unless a helicopter dropped them there but I was impressed with how they got down the mountain. I would be scared to death standing at the top looking down looking at the ledges, rocks and trees, not to mention the steep 70-80 degree slopes. It was thrill enough for me to see their tracks and imagine it all from my comfortable seat in the nice warm airplane.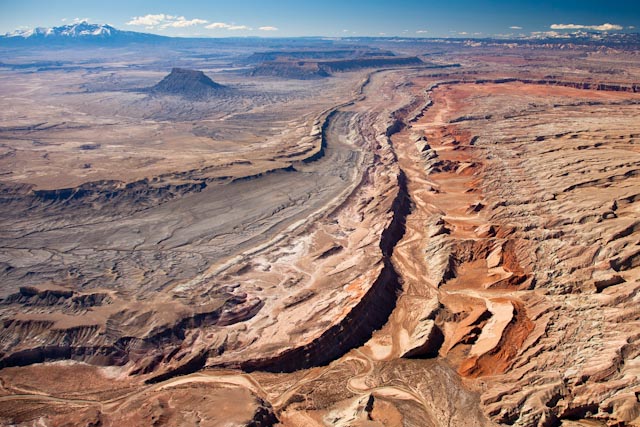 The flight continued south through central Utah just west of Price and Green River then into the high desert where rivers have cut deep slot canyons in the sand stone and where the land mass seems to look like a waves cresting near the shore. The rock formations become even more interesting around the Hanksville area. Red and white rock cliffs and spires. Grey, black, pink and green clay create murals that no artist could paint. Plateaus and vast baron areas appear nearly lifeless below. The terrain and desert topography is stunning and with the clear blue skies and colorful hints of spring plant life I found myself almost hypnotized.
We made one pass over the site and the big Ziess camera mounted in the belly took our photos and we turned North for home.
Just another flight it seems, in one way, but in another an incredible journey. Once back in the airplane it was like I never left. It's like the familiar "glove" people talk about. I felt completely comfortable and at ease.
I have seen these areas many times before. I have flown this airplane hundreds and hundreds of hours before and there was nothing unusual or dramatic about this particular flight except I was reminded of how lucky I am and what a great experience it is to fly. Maybe sometimes a break from the routine of flying can help one appreciate how great it really is and why you would never want to risk losing the opportunity to fly. It is difficult to explain the bond one develops with his airplane or the emotional draw associated with flying but it is real and those who know feel it too.
I learned that life is fragile. In one moment our life can change forever and we risk losing the opportunity to fly. They were only gone from me for 3 months but it was enough to remind me of what a privilege it is and how I will treasure each opportunity to sit behind the control wheel.