Frontier pilots have been involved in negotiating a new agreement since March this year, while Delta Pilots are close to entering their twentieth month.
Frontier Airline Pilots, who have been in negotiations since with the airline over a new contract, and who filed a grievance for overdue payment back at the beginning of August, have requested a federal mediator become involved in their contract talks with the airline. They claim that Frontier Airlines continues to refuse to offer Frontier Pilots industry standard terms despite enjoying record profits. At the same time, Delta Pilots picketed this last week outside Delta Airlines headquarters and are calling on Delta's management to conclude negotiations on a new contract. Negotiations have been continuing for more than 19 months now, including 8 months with the involvement of a federal mediator. The pilots claim that like Frontier, Delta is doing very well and that excepting the pilots, all other employees, shareholders, and investors have benefitted from that success. Both pilot groups are represented by the Air Line Pilots Association (ALPA).
More Details on the Frontier Pilots Contract Dispute
ALPA filed a mediation request at the end of last week with the National Mediation Board (NMB). Once the request is approved, a federal mediator will step in to both take over the bargaining schedule and oversee the negotiations as they move forward. According to Captain Brian Ketchum, Frontier pilots are the lowest-paid narrowbody jet pilots in the US and are still working under the terms of a 2011 contract which saw them sacrifice $55 million in order to keep the airline in business. Ketchum said that "We are completely dissatisfied with both the substance and the pace of our negotiations, and we ask the NMB to help us reach a new agreement that recognizes our pilots' worth to the company without further delay."
According to ALPA, both public statements by Frontier executives and financial reports for the airline show that they are "highly profitable" but that at the bargaining table, they are seeking to make the pilots pay for potential future raises. Ketchum hopes that the assistance of the NMB "will allow us to reach a consensual agreement with management that recognizes our contributions to Frontier's growth and profitability."
Under the current federal laws, once the NMB accepts the pilot's mediation request, negotiations will continue until the groups agree on a new contract, or the NMB releases both parties for a 30-day cooling off period. After that period expires, either side can exercise "self-help options," which could include a strike by the Frontier pilots.
More Details on the Delta Pilots Contract Dispute
Delta, according to ALPA, is "highly profitable and successful" and despite taking large pay cuts during Delta's 2005 bankruptcy, the pilots have yet to see the benefits of that profit.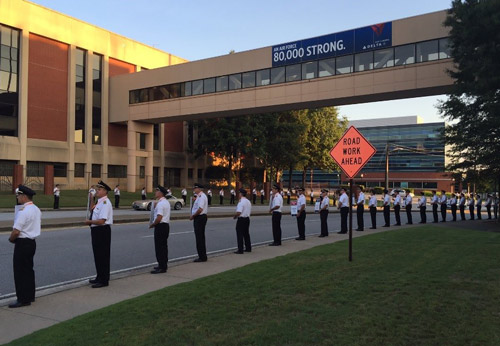 In a recent letter to the Delta pilots, Captain John Malone, the chairman of ALPA's Delta Pilot group, said "…it is way past time for these negotiations to be concluded in a manner that reflects the contribution we add to Delta. Everyone else has been rewarded: other employees, shareholders. and management."
And though the negotiations have addressed a variety of issues under the direction of the NMB, ALPA says there are still a number of difficult key items yet to be successfully negotiated, and that they remain committed to achieving a contract that recognizes the pilot's sacrifice and contributions to Delta's current success.
Featured Image: Peter Van Marion, CC2