Remembering Aviator and Adventurer Steve Fossett
Most adventurers would agree that it's the crazy world record attempt that would kill you, not a walk in the park. And so the aviation community was shocked that an experienced aviator like Steve Fossett would have crashed when he disappeared on a routine flight in 2007.
Many pilots remember hearing news of Steve Fossett's disappearance somewhere over the Nevada mountains. It had an almost Earhart-esque feel to it; a prominent aviator & adventurer disappears in a remote area with no signs or clues left behind at all, immediately followed by conspiracy theories. Some claimed that the millionaire faked his own death and others said he was shot down by the military for flying too close to restricted airspace known as Area 51.
The most probable cause is possibly much simpler.
Fossett and His Aviation Accolades
Steve Fossett funded his adventures through the millions he made in the financial services markets after selling his two brokerage services. The dreams of exploration had been evading him while he poured his life into his businesses. Once he got his chance, he went full-throttle and there was no end in sight.
A 2002 balloon flight is probably what Fossett is best known for; on his sixth attempt he became the first person to circumnavigate the globe in an aircraft, solo, nonstop, and unrefueled. The flight took 13 days and 8 hours and set many other balloon records at the same time.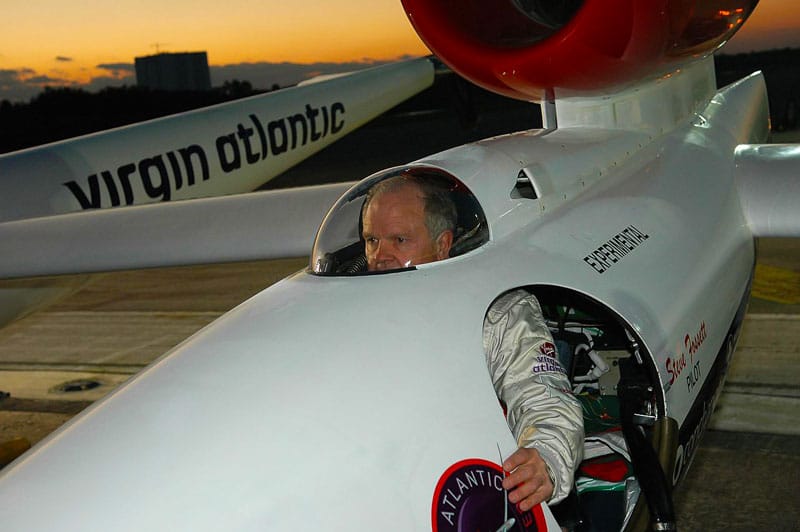 Fossett later repeated the feat in a jet airplane, the Virgin GlobalFlyer, in 67 hours during a 2005 flight. He flew the GlobalFlyer again the following year and set an absolute distance record of 25,776 miles during an unrefueled flight that lasted nearly 77 hours.
The aviation records don't stop there. Fossett made the first solo flight across the Pacific Ocean in a balloon; he broke two transcontinental speed records in one day, the first in a Cessna Citation jet and the second in a turboprop (previously held by Chuck Yeager); he flew a glider into the stratosphere with an absolute height record of 50,720', and he and his aviation partner Terry Delore still hold a number of other glider records.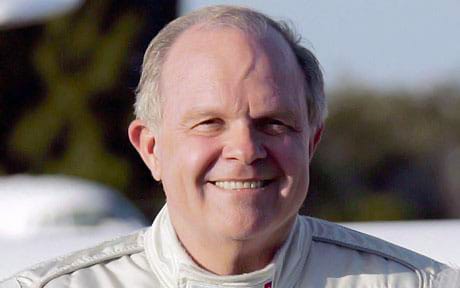 Tired of aviation records? Steve Fossett is "one of the most experienced sailors in the world" as well, breaking 23 world sailing records including fastest around the globe (58 days, 9 hours) and fastest across the Atlantic Ocean (4 days 17 hours), which he beat by 43 hours.
There are a few other records in there as well, including some cross-country skiing records in Colorado. Fossett also swam across the English Channel in 1985, climbed most of the Seven Summits, completed an Ironman, and was an ultramarathoner.
Steve Fossett was inducted into the Aviation Hall of Fame in July of 2007.
Steve Fossett's Final Flight
On September 3rd, 2007, he took off from a private hunting and fishing ranch in Nevada owned by Barron Hilton (of Hilton Hotels). The Flying M Ranch is at the base of the rugged Sierra Nevada crest, south of Yerington, Nevada, and Fossett was in the hunting club's single-engine Bellanca Super Decathlon.
Fossett was still unaccounted for after six hours, and the Decathlon has an endurance of five hours. No one had received any radio calls and there were no emergency beacons of any kind. A search started but all searchers had to go off of was Fossett's statement to the Flying M's chief pilot that he was going to fly south along Highway 395.
Peggy, his wife of 40 years, confirmed that Fossett owned a special Breitling watch that had an ELT function on it. He was not wearing it at the time.
Reports of Fossett's disappearance quickly spread and the search intensified. It didn't take long for the conspiracy theories to emerge. A favorite was the "Nevada Triangle," a nod to the infamous Bermuda Triangle. Some media sources claimed that over 2,000 aircraft have disappeared since the 1960s in a triangle bound by Las Vegas to the south, Fresno to the west, and Reno to the northeast. Extraterrestrial and government activity at Area 51 was making aircraft disappear into thin air. The reality is that there's really only closer to a dozen aircraft that are unaccounted for in that area, an area that also coincides with some wildly unpredictable and strong winds.
This region of the country is infamous for its "mountain wave" winds. High winds from the west hit the sharp peaks of the Sierras, the air mass is violently forced up, and then it comes crashing down when it cools. The winds can grab a small aircraft like a Decathlon and just pull it out of the air. I had my own near-death experience caused by these winds in a helicopter, just up the road from where Fossett departed. They're no joke.
Even Mark Twain wrote of these winds. "But, seriously, a Washoe wind is by no means a trifling matter. It blows flimsy houses down, lifts shingle roofs occasionally, rolls up tin ones like sheet music, now and then blows a stagecoach over and spills the passengers."
The Search for Steve Fossett
The search eventually covered an area of 17,000 square miles of rugged terrain. Civil Air Patrol made routine flights out of Minden, Nevada and Bishop, California. Flights were at times called off because of high winds. Eight previously unknown small aircraft wreckages were found in "the Triangle" during the search, but they mostly focused on finding Fossett.
On September 7th 2007, four days after his disappearance, Google got involved by providing detailed, up-to-date satellite imagery of the search area. A large network of 50,000 untrained civilians started analyzing sectors of imagery, often impeding the search effort with numerous false alarms.
The search was eventually called off on October 2nd, 2007. All leads had been exhausted and survival experts showed that he could not survive in that terrain for so long. Peggy asked that he be declared legally dead in November, two months after his disappearance. On February 15th, 2008 it became official.
The search for Steve Fossett was, and still is, the largest search for a single person in the United States. It cost over $1.6 million.
A Grisly Discovery
On September 29th 2008, hikers near Minaret Lake, nine miles northwest of Mammoth Lakes, California, discovered some cash and identification cards belonging to Fossett, including his Airman's Certificate. They reported the finding the next day and on October 1st, during an aerial search, an aircraft wreckage was found a half-mile from where the personal belongings were found. The tail number matched the Super Decathlon that Fossett was flying. The wreckage was in the previous year's search area but would have been hidden by trees and terrain.
The crash site, at an altitude of 10,100 feet, was mostly charred with dimensions of 400' x 150'. The wreckage was more or less pulverized and the engine was found 300 feet away, indicating a very high force at impact. Fossett would have died instantly. No human remains were found at the site, only small bone fragments not of human origin. A half-mile east of the site, however, some larger bones were found along with a shoe covered in animal bite marks. On November 3rd, a coroner confirmed that the bone DNA was a match to Fossett.
Of the discovery Peggy Fossett said, "The uncertainty surrounding my husband's death over this past year has created a very difficult situation for me. I hope now to be able to bring to closure a very painful chapter in my life."
Post-Recovery Analysis
After the wreckage was found, radar tracks from that day were reviewed and revealed a track that started 35 miles south-southwest of the Flying M, paralleled Highway 395 south ten miles to the west, and disappeared a mile from where the wreckage was found. The altitude readout indicated between 14,500' and 14,900'. This track was dismissed during the initial search because a witness on the ground reported seeing the aircraft in the air at a different location, but the time of the sighting was off by one hour.
The NTSB finally released its findings on March 5th, 2009. Meteorological models using recorded winds and temperatures from the day of the crash calculated downdrafts in excess of 300 fpm that morning. They also calculated that the density altitude at the 10,100' crash site would have been 12,700'. The maximum climb rate of a Super Decathlon at a 12,700' density altitude is, you guessed it, 300 fpm. If Fossett was caught in a downdraft, there was no way he could have climbed out of it before hitting the dramatic terrain of the eastern high Sierras.
Later in July, the NTSB declared that the probable cause of the crash was "the pilot's inadvertent encounter with downdrafts that exceed the climb capability of the airplane." Contributing factors were listed as downdrafts, high-density altitude, and mountainous terrain.
Featured Image: Virgin Atlantic