The Cessna Turbo Skyhawk JT-A offers improved takeoff performance, particularly in high and hot conditions.
Textron Aviation has received certification from both the FAA and EASA (European Aviation Safety Agency) for their Cessna Turbo Skyhawk JT-A. The JT-A, which comes equipped with next-generation Garmin G1000 NXi avionics and a Continental CD-155 engine, has exceeded Textron Aviation's initial performance targets. This includes a range of 963 nautical miles (an increase of 78 nm compared to the original estimates), an improved takeoff distance of 1,320 feet, and a max climb rate of 767 feet per minute.
According to company officials, the Turbo Skyhawk JT-A is a "factory option that includes an integrated powerplant, propeller and cockpit upgrade package that boosts the standard Skyhawk's performance." Doug May, Textron Aviation's Vice President of Piston Aircraft noted that the Skyhawk platform represents the most successful single-engine aircraft of all time and that the company is excited to "further enhance its capabilities with Jet-A powerplant technology. The Turbo Skyhawk JT-A allows operators to meet changing environmental regulations around the world, providing solutions to increase the global reach of this already proven platform." To date, the company says that more than 44,000 Skyhawks have been put into service.
The JT-A's 155 hp Continental engine features direct fuel injection, a dual channel FADEC driven by a single power lever, and burns Jet-A fuel. In addition to the increased range (a 50% bump over the standard Skyhawk's range), the JT-A also features a max cruise speed of 134 knots.
Cessna Turbo Skyhawk JT-A Specs1
Dimensions
| | |
| --- | --- |
| Length | 27 ft 2 in (8.28 m) |
| Height | 8 ft 11 in (2.72 m) |
| Wingspan | 36 ft 1 in (11.00 m) |
| Wing Area | 174 sq ft (16.17 sq m) |
Cabin Interior
| | |
| --- | --- |
| Height | 48 in (1.22 m) |
| Width | 40 in (1.00 m) |
| Length | 11 ft 10 in (3.61 m) |
| Maximum Occupants | 4 |
Baggage Capacity
| | |
| --- | --- |
| Weight | 120 lb (54.4 kg) |
| Volume | 30 cu ft (0.85 cu m) |
Weights
| | |
| --- | --- |
| Maximum Ramp Weight | 2,552 lb (1,158 kg) |
| Maximum Takeoff Weight | 2,550 lb (1,157 kg) |
| Maximum Landing Weight | 2,550 lb (1,157 kg) |
| Usable Fuel Weight | 299 lb (136 kg) |
| Usable Fuel Volume | 45 gal (169 l) |
| Basic Empty Weight | 1,750 lb (794 kg) |
| Useful Load | 802 lb (364 kg) |
| Maximum Payload | 800 lb (363 kg) |
| Full Fuel Payload | 503 lb (228 kg) |
Performance
| | |
| --- | --- |
| Maximum Cruise Speed | 134 ktas (248 km/h) |
| Maximum Range | 885 nm (1,639 km) |
| Takeoff Distance | 1,615 ft (492 m) |
| Ground Roll | 944 ft (288 m) |
| Landing Distance | 1,335 ft (407 m) |
| Ground Roll | 575 ft (175 m) |
| Service Ceiling | N/A |
| Maximum Climb Rate | 712 fpm (217 mpm) |
| Maximum Limit Speed | 163 kias (302 km/h) |
| Stall Speed | 48 kcas (89 km/h) |
Powerplant
| | |
| --- | --- |
| Manufacturer | Continental |
| Model | CD-155 |
| Power Output | 155 hp (155 hp) |
| Propeller Manufacturer | MT Propeller |
| Description | 3 blade composite |
Featured Image: Cessna Turbo Skyhawk JT-A courtesy of Textron Aviation
1 – Cessna Turbo Skyhawk JT-A Specs, Cessna, Retrieved 6-15-17
---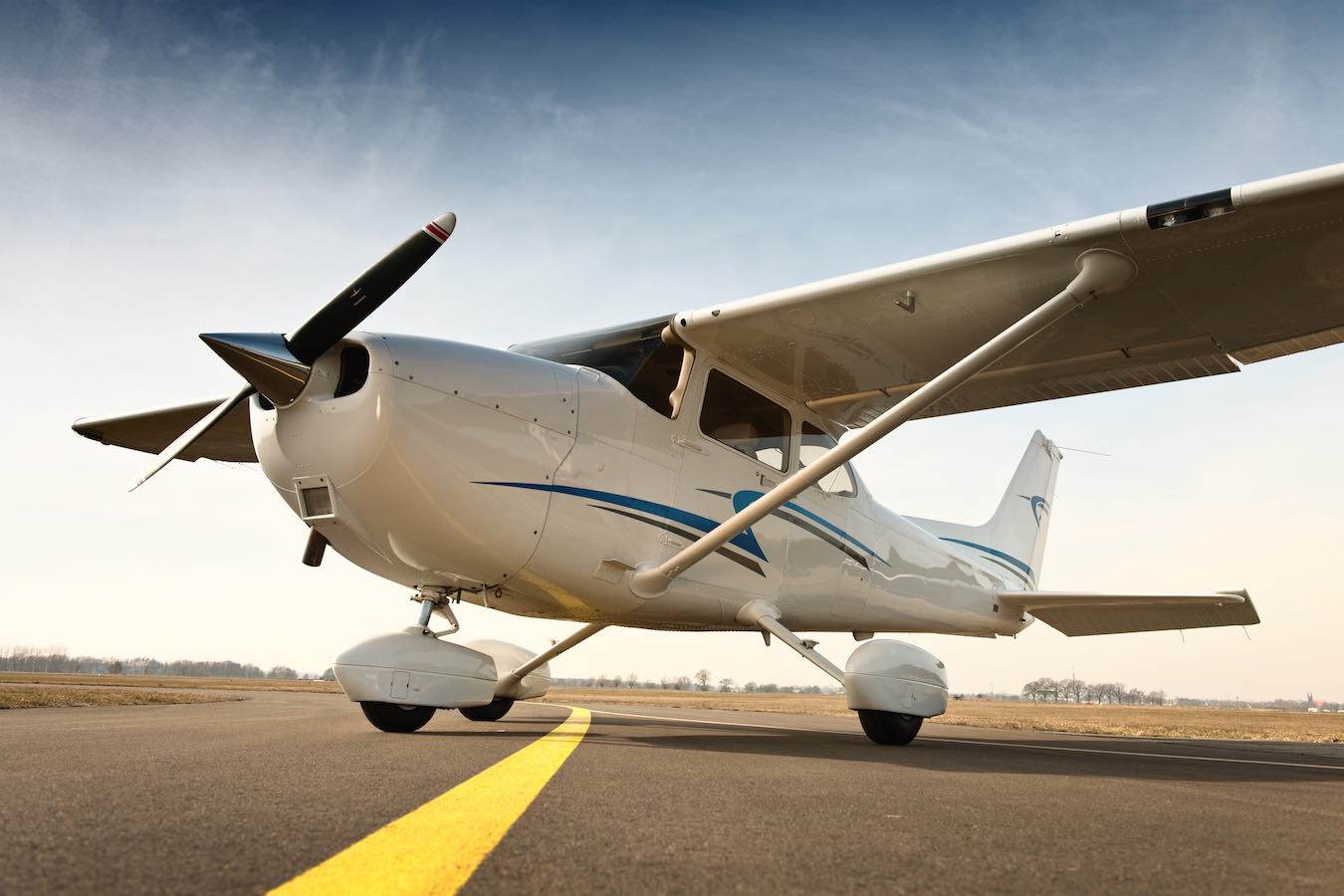 The Flight Endurance World Record
There are a lot of world records related to flight. They can be in either a manned or unmanned aircraft, refueled or un-refueled, and cover areas such as flight distance, speed, or altitude. One of the most interesting and sought after of all flight records is for refueled, manned flight endurance. The current record of 64 days, 22 hours, and 19 minutes was set in 1958, by Robert Timm and John Cook. The story of this pair of Las Vegas pilots and their record-breaking flight is incredible, often funny, and always a little unbelievable. [Read More]
---